Black Dragon Fighting Society T-Shirts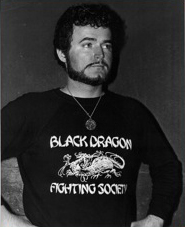 Count Juan Raphael Dante was the self-proclaimed Deadliest Man Alive. In 1966, in collaboration with Sensei Senzo Tanaka, he founded the American Chapter of the Black Dragon Fighting Society. These two men made it possible for Frank Dux, hero of the 1988 movie Bloodsport, to participate in the closed Kumite Death Matches and become the first American to ever win the event.
Count Dante is a martial arts legend. His Kung Fu, Dim Mak and Poison Hand skills were without equal in his time. Our chapter of his ancient and honorable fraternity strives always to represent the "best of the best" as exemplified by our Grandmasters Council and annual Hall of Honor ceremonies. Our membership includes the finest martial artists from all over the world. Our reputation as men of peace who can fight like ten tigers is well known and respected.
Now, you too can be one of the few to wear this emblem and represent the highest standard of martial arts excellence.
History, Lineage and Legacy
-The True Story of How It All Began-


The American Branch of the most ancient and honorable Black Dragon Fighting Society was founded by the late Count Juan Raphael Dante and opened to public membership in 1968.
Select on a image below to order or view more information
John Keehan AKA Count Dante was born in Beverly, Illinois, on February 2, 1939, and died May 25th, 1975. His unexpected death at age 34 is the cause of much deliberation. It is attributed to a perforated stomach allegedly caused by either a bleeding ulcer, toxic poisoning or "Dim Mak" poison hand technique that resulted in his untimely death. A strong indicator of foul play may be that his body was autopsied numerous times and he is buried in an unmarked grave.
According to urban legend, Count Dante had participated in forbidden Death Matches on the closed Chinese mainland and had killed three men with his bare hands using the Tibetan Burning Palm taught to him by master Senzo Tanaka. He was schedule to fight again in 1975. With his untimely death the invitation was offered to his young protégé, Frank Dux, who competed in Keehan's place in the coveted and legendary Kokuryukai, Black Dragon Fighting Society No-Holds Barred, Anything Goes, Last Man Standing Kumite. This event is the basis of the 1988 classic martial arts film Bloodsport. based on true events in the life of Frank Dux, Undefeated Champion 1975-1981, who still holds sixteen unbroken World Records for Fastest Punch, Fastest Kick and Fastest Knockout.
Hanshi Dux was trained in Poison Hand techniques by Grandmaster Lawrence Day, one of the original students of Count Dante. "John was one of the early pioneers of Karate in the Chicago area. In a time when karate was strictly traditional he began teaching an eclectic system that was applicable to real life combat and self defense. He was one of the first instructors to teach 'mixed martial arts,' borrowing whatever worked from various systems. He sponsored the first full contact tournaments in the U.S. starting in 1967. Kumite between the various schools were practiced with contact but these were the first open tournaments that didn't use the point system. There was no protective equipment in those days and the fights were often brutal and bloody affairs. The martial art media and the martial arts community didn't approve of them and many schools refused to support the tournaments. John was just ahead of his time. Now these types of tournaments are common place."
Ashida Kim became a member of the Black Dragon Fighting Society by learning Count Dante's Dance of Death in a closed Dojo at a secret training session in 1968 while protesting at the Democratic National Convention. Meeting Count Dante was a pivotal moment in his martial arts career. Membership in this most ancient and honorable fraternity enabled him to learn Ninjitsu, not a martial art at all, but a field of study that encompasses fistic and grappling arts, weapons, strategy and tactics, self-defense, but most of all healing and knowledge. He has taught Kata Dante, the Dance of the Deadly Hands, all over the world to continue the tradition of this fellowship and developed with the other masters a system of Qi Gong Exercises based on the ancient secrets of Dim Mak for good health and longevity.
This is the direction of our order for the 21st century. To bring peace and help others. We have always been considered the best of the best. We invite you to join us in this noble cause.
Please indicate in the note section or order form the following information:
* Style/Name of Shirt

* Size- Medium, Large, Extra-Large, XX-Large

* Quantity

* Special Order Information

* Be all that you can be...one of the Few...who set a good example for all...

Classic Ninja Titles Stealth and Invisibility T-Shirts Dim Mak Instant Self-Defense
Invisible Fist Ninja Alchemy Black Dragon Page Ninja Magic Ninja Weapons
Grandmaster Lawrence Day Soke Michael Robinson Shihan Jeremy Schmidt
Dragon Lady DOJO Training Manuals Ultimate Fighting Grappling Skills Backyard Black Belt
Martial History American Homeguard Homeguard II Strategy and Tactics
Other Ninja Schools Anonymous Authors 21st Century Martial Arts Circus of Dr. Lao
Self-Help Unique Publications Humor and Novelty New Releases
Classic Ninja Video Grandmasters Video NINJA Training Video
Invincible Kung Fu Qi TV Series Nei Gong and Shen Self-Defense Basics
Healing and Massage Dowsing Series 21st Century Qi Gong Therapy
Good Health and Longevity DOJO Training Videos Unique Videos Black Belt Training Video
DOJO HOMEPAGE AUDIOTAPES VIDEO TAPES FEATURED AUTHOR
VANISHING NINJA SUBMIT YOUR MANUSCRIPT INQUIRIES COMPANY PROFILE
For General or Advertising Information Contact: Dojo Press
Copyright © 2012 Dojo Press
All rights reserved. Do not duplicate or redistribute in any form. SM112476