Gwai Lo Makes Tea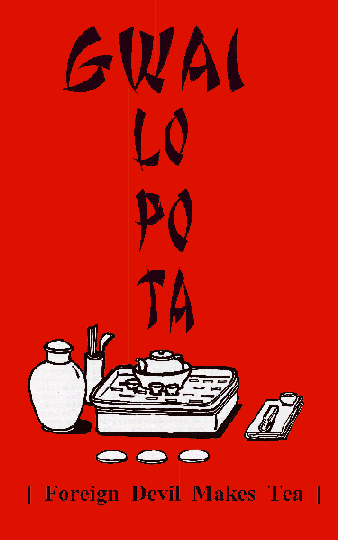 Revealed At Last!
"The Art of KUNG FU Tea"

Gwai Lo is a none too complimentary name given by many Chinese "round eyes," or "foriegn devils," not of Asian ancestry. Many Oriental arts are forbiddento "outsiders." Even among scholars, the Art of KUNG FU Tea is seldom seen in this era. It was, however, an essential part of many martial arts teachings. Kung Fu Tea is a highly concentrated effusion of powerful teas. Virtually the cappacino of the tea world. The Masters drink it from thimble sized cups that are never touched by the hand of the Tea Master, only by his guest. This is not the Japanese Cha no Yu Green Tea ritual, this is far more ancient. Oolong, Black Dragon semi-fermented tea is often used in this water sharing ceremony. The I Ching, the oldest book known to man, over 4000 years old, says, "Poor indeed is the man who cannot share a cup of tea with a fellow traveler along the Way." This is how the fire was built, the water boiled, and the medicinal and social eminities observed. A MUST READ for those seeking to understand the etiquette of martial arts.

5 1/2 x 8 1/2; pamphlet

$12.95 + $5 Priority Shipping

Pay With PayPal
| | |
| --- | --- |
| | <!"https://www.paypal.com/en_US/i/btn/view_cart_02.gif"> |
To order by mail click here Gwai Lo Makes Tea
When ordering by mail: Indicate book or item and mail with your
name, address, city, state and zip code to:
Dojo Press
PO Box 209
Lake Alfred FL 33850
Please include check or money order. Canada and Foreign
orders, please add $5 per order for shipping. US Funds Only.
DOJO HOMEPAGE AUDIOTAPES VIDEO TAPES FEATURED AUTHOR
SUBMIT YOUR MANUSCRIPT INQUIRIES COMPANY PROFILE
For General or Advertising Information Contact: Dojo Press
Copyright © 1998 Dojo Press
All rights reserved. Do not duplicate or redistribute in any form.