Forbidden Weapons of the NINJA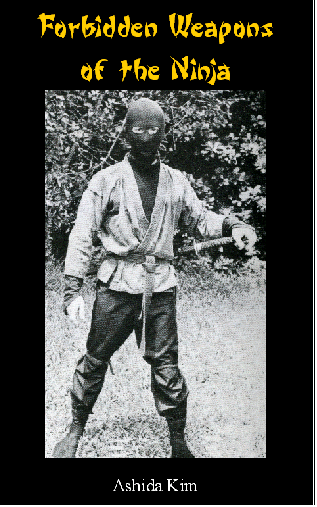 Metsubishi-Ko– NINJA Blinding Powders
Kyoketsu Sogi– The Retrievable Stone and Hook Knife
Shuriken Jitsu– NINJA Throwing Stars
Iaijitsu– NINJA Quick Draw Sword Techniques
Shinobi-Zue– Bo Staff, Chain, and Nunchaka Techniques
While these are by no means all the weapons in the Ninja arsenal, these five represent the Five Element Principles upon which their philosophy of weaponry is based. Ninja could not own swords during the Samurai era. Nor could they easily wander about the countryside armed to the teeth for a mission. Therefore, many were taught to improvise such devices in the field, either by manufacturing them or stealing them from the enemy. It then became a simple matter to apply the principles of the weapons, be it flexible or rigid, edged or blunt in order to emerge as a dangerous fighting force on the battlefield or the characteristic mysterious and sinister invisible assassins of feudal Japan for which they became legendary.
Once again, Grandmaster Ashida Kim lifts the veil of silence to reveal the secret teachings of the Ninja brotherhood so that all may benefit from these self defense applications.
5 1/2 x 8 1/2, 90 pages, b&w photo
Retail $12.95
Pay With PayPal
| | |
| --- | --- |
| | <! "https://www.paypal.com/en_US/i/btn/view_cart_02.gif" > |
To order by mail click here Forbidden Weapons of the Ninja
When ordering by mail: Indicate book or item and mail with your
name, address, city, state and zip code to:
Dojo Press
PO Box 209
Lake Alfred FL 33850
Please include check or money order. Canada and Foreign
orders, please add $5 per order for shipping. US Funds Only.
DOJO HOMEPAGE AUDIOTAPES VIDEO TAPES FEATURED AUTHOR
VANISHING NINJA SUBMIT YOUR MANUSCRIPT INQUIRIES COMPANY PROFILE
For General or Advertising Information Contact: Dojo Press, Inc.
Copyright © 1998 Dojo Press, Inc.
All rights reserved. Do not duplicate or redistribute in any form. SM112476