DIM MAK Simplified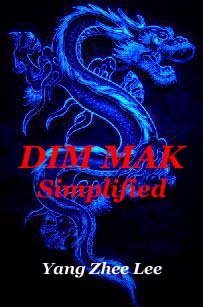 Author Yang Zhee Lee, is acupressure massage expert and a acupuncturist who owns his own clinic. Aside from practicing Asian Medical Arts, Mr. Lee has also studied Wing Chun Kung-fu, Five Animal Boxing, Chinese Street Fighting, and Tai Chi while attending formal medical classes in Hong Kong.
In this book he reveals is an extremely simplified hybrid system of Dim Mak, the deadly science of using acupuncture points for self defense. He provides a basic framework for understanding Dim Mak, and basic applications of Kung-Fu which would allow any martial artist or non-martial artist to have an edge against a attacker on the street.
The system of Dim Mak as taught in this book, is a stripped down method that moves around the decades of study in the sciences of acupuncture, acupressure, herbs and Chinese Medicine needed to fully understand and apply the science of the secret and forbidden Death Touch. That will allow one to formulate an a personal self-defense system based on hard work and educated study.



WITCH HUNTER PUBLISHING; $19.95
5 1/2 x 8 1/2 inches; illustrated
Pay With PayPal
| | |
| --- | --- |
| | <! "https://www.paypal.com/en_US/i/btn/view_cart_02.gif"> |
To order by mail click here DIM MAK Simplified
When ordering by mail: Indicate book or item and mail with your
name, address, city, state and zip code to:
Dojo Press
PO Box 209
Lake Alfred FL 33850
Please include check or money order. Canada and Foreign
orders, please add $5 per order for shipping. US Funds Only.
DOJO HOMEPAGE AUDIOTAPES VIDEO TAPES FEATURED AUTHOR
VANISHING NINJA SUBMIT YOUR MANUSCRIPT INQUIRIES COMPANY PROFILE
For General or Advertising Information Contact: Dojo Press
Copyright © 1998 Dojo Press
All rights reserved. Do not duplicate or redistribute in any form. SM112476