Frank Dux Fight Club T-Shirt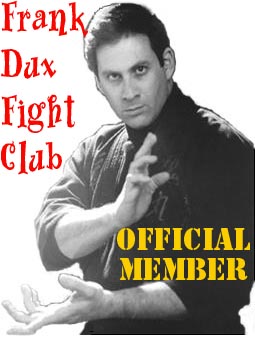 Hanshi Frank Dux
Undefeated Black Dragon Fighting Society Kumite Champion 1975-1981


"Frank Dux is one of the world's finest operatives, whose skills and experience are what legends are made from..." Frank Dux is often described as America's real life answer to James Bond or Ethan Hunt.
Four Star Major General Anatoly Korneinko, USSR


From 1975 through 1981, Frank Dux honed his personal protection and martial arts skills on the underground fight circuit to the point it transformed him into the truly first Ultimate Fighting Champion, reigning as Kokuryukai World Full Contact Kumite (no-holds-barred) Champion; retiring undefeated and having establishing sixteen WORLD RECORDS recognized by the South African Olympic Committee; including World Records for Fastest Punch, Fastest Kick and Fastest Knockout, many of which have been standing for more than a quarter century. As a result Frank Dux has been inducted into five martial arts Halls of Fame as a "Living Legend."
According to urban legend, Count Dante had participated in forbidden Death Matches on the closed Chinese mainland and had killed three men with his bare hands using the Tibetan Burning Palm taught to him by master Senzo Tanaka. He was schedule to fight again in 1975. With his untimely death the invitation was offered to his young protégé, Frank Dux, who competed in Keehan's place in the coveted and legendary Kokuryukai, Black Dragon Fighting Society No-Holds Barred, Anything Goes, Last Man Standing Kumite. This event is the basis of the 1988 classic martial arts film Bloodsport, based on true events in the life of Frank Dux which was responsible for launching the film career of Jean Claude Van Damme - it is a cult classic, globally popular - attributed to Frank Dux inspiring story and implementing a new realistic fight choreography Hollywood film makers adopted and use today.
Frank Dux Fight Club T-Shirt $29.95
| | |
| --- | --- |
| | <!width="100" height="30"> |
To order by mail click here Frank Dux Fight Club T-Shirt
When ordering by mail: Indicate book or item and mail with your
name, address, city, state and zip code to:
Dojo Press
PO Box 209
Lake Alfred FL 33850
Please include check or money order. Canada and Foreign
orders, please add $12 per order for shipping. US Funds Only.
DOJO HOMEPAGE AUDIOTAPES VIDEO TAPES FEATURED AUTHOR
VANISHING NINJA SUBMIT YOUR MANUSCRIPT INQUIRIES COMPANY PROFILE
For General or Advertising Information Contact: Dojo Press
Copyright © 2012 Dojo Press
All rights reserved. Do not duplicate or redistribute in any form. SM112476