DOJO-Academy of Martial Arts presents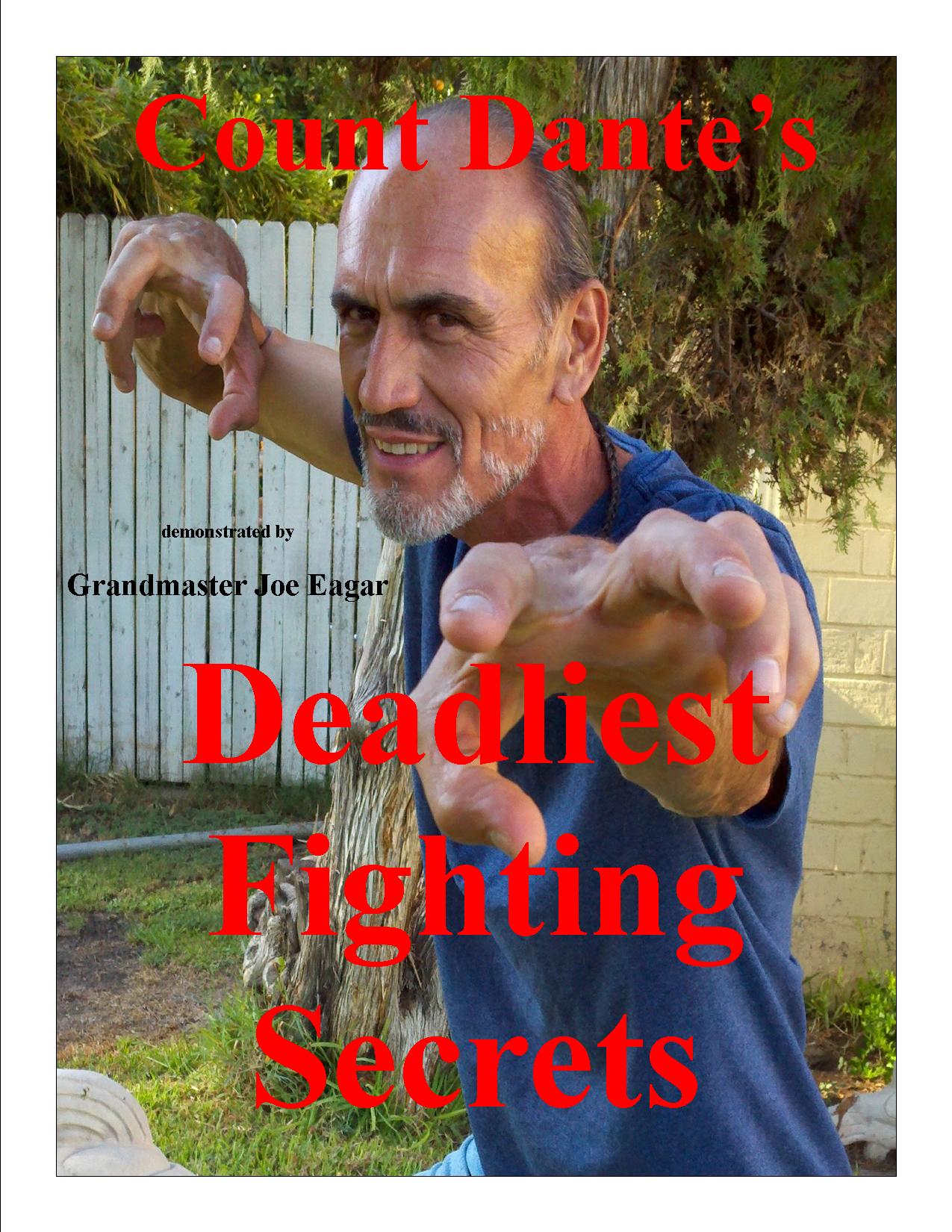 Count Dante's
Deadliest Fighting Secrets


Grandmaster Joe Eagar has been teaching professionally for over thirty years. He has won over a hundred tournaments, is a master of Chinese Kung Fu and Wu Shu. He is an 8th black belt in the Black Belt Secret Society. And, a Master in the Black Dragon Fighting Society.
He has trained in the Lion Dance and the Iron Palm he has studied with many famous teachers like Kenny Perez, Wu Bin, Jinheg Li and Jerry Cook.
He currently teaches classes at numerous community colleges in the Phoenix area. His classes currently being taught at these establishments include Yang Taijiquan, Wudang Quan, Five Animals, Shaolin Staff, Long Fist (Chang Quan), and Sun Style Baguazhang. He also has a home school where he has trained many of the best instructors in the Southwestern U.S. and has a championship Wushu team that works continuously to raise money for local charities.
In this video performance he presents many of the secret and forbidden fighting techniques made famous by Count Dante,
Including:


108 Poison Hand Sets 1&2


Running Dragon Looking Back (Authentic Kung Fu Form)


Dance of the Deadly Hands 1-7


Chinese Jujitsu-18 Shaolin Chin-Na


How To Break a Stone with your BARE HAND!


And much more…
55 minutes; Color; DVD Format; $29.95 + $5 Priority Shipping
| | |
| --- | --- |
| | <!width="100" height="30"> |



To order by mail click here Count Dante's Deadliest Fighting Secrets
When ordering by mail: Indicate book or item and mail with your
name, address, city, state and zip code to:

Dojo Press
PO Box 209
Lake Alfred FL 33850

Please include check or money order. Canada and Foreign
orders, please add $5 per order for shipping. US Funds Only.

DOJO HOMEPAGE AUDIOTAPES VIDEO TAPES FEATURED AUTHOR
VANISHING NINJA SUBMIT YOUR MANUSCRIPT INQUIRIES COMPANY PROFILE

For General or Advertising Information Contact: Dojo Press




Copyright © 2011 Dojo Press
All rights reserved. Do not duplicate or redistribute in any form.