Secrets of Koga Ryu Ninjitsu
by Shihan Jeremy Schmidt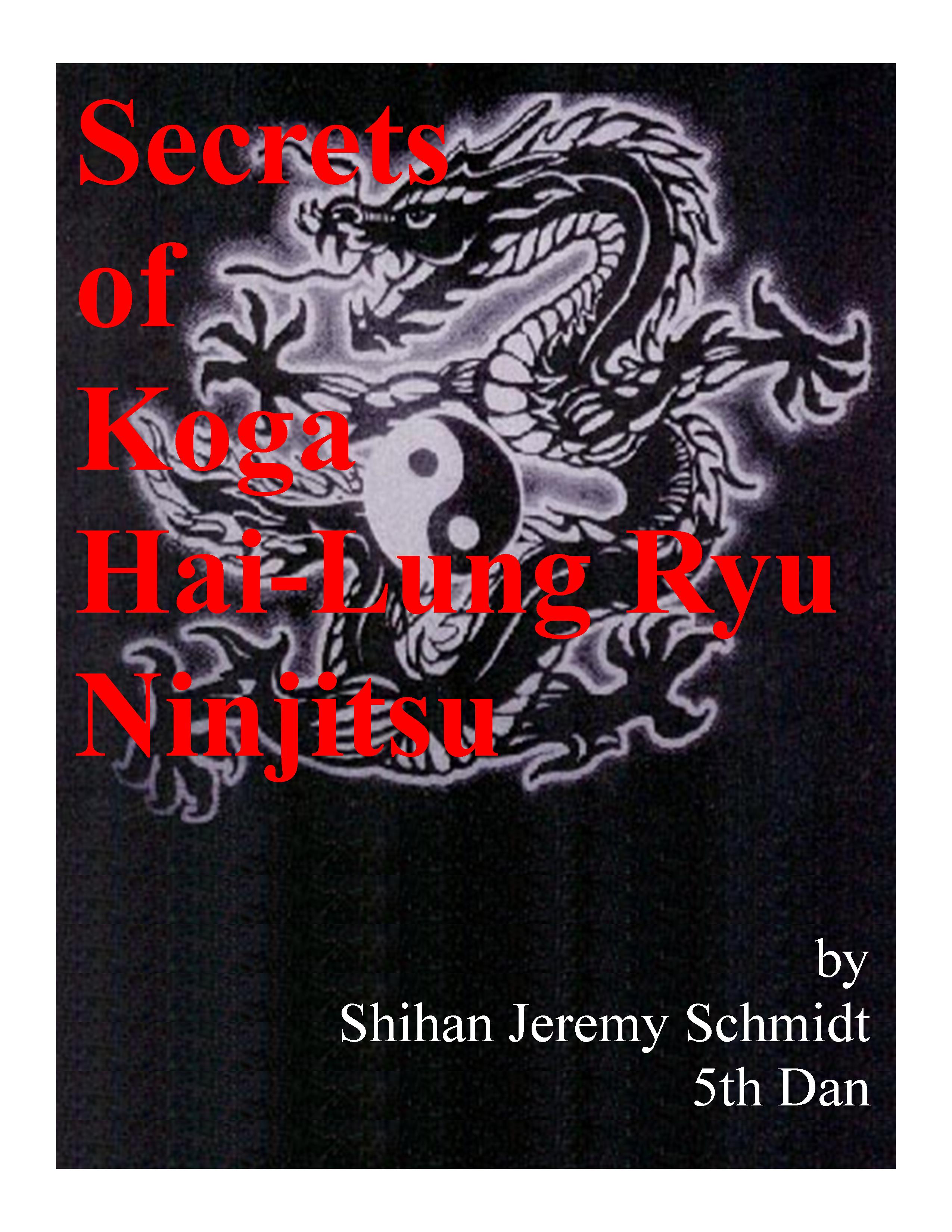 Koga Hai Lung Ryu Ninjitsu is perhaps the least understood Ninjitsu system today. This is most likely because the system uses a great deal of Chinese terminology and also Japanese terminology in its system. Also, this system uses many techniques similar to Karate and Judo as well as other Asian fighting systems.

In this book we will discuss many forbidden secrets of this ancient Ninjitsu system. These tactics will include a history of Koga Hai Lung Ryu, meditation, hand-to-hand combat, weapons, Ninja operational tactics and much more!!

Including:
Nunchaka, Sword, Garrote, and Smoke Techniques
Falls, Rolls and Acrobatics (Authentic Kung Fu Form)
Evasion Skills (Target Denial)
Kumi Uchi-Grappling and Control Techniques
Five Elements of Combat
Dim Mak– Art of Vital Point Striking

Shihan Jeremy Schmidt has been studying Ninjitsu for more than fifteen years. He holds a 5th Dan in the Koga Hai Lung Ryu Ninjitsu under Grand Master Ashida Kim. He is a proud member of the Black Dragon Ninja Society and is the president of the Koga Hai Lung Ryu Ninjitsu brotherhood. Shihan Schmidt also holds black belt ranks and Tai Jin Bugei Ryu Ninjitsu, Kobushinkan Bujitsu, Goju-Kai Karate, Shotokan Karate, Combat Jujitsu, and also is the head representative for the Toushinkai USA School of Koka-ryu Ninjitsu, certified from sensei Rodolfo Turolla. Shihan Schmidt it is the author of the book Koga Ryu Ninjitsu and the videos Koga Ryu Ninjitsu Weapons and Advanced Ninja Weapons. These are all available through DojoPress.com

illustrated; 8 1/2 x 11; softcover;
$ 24.95 USD + $5 Priority Shipping
Pay With PayPal
| | |
| --- | --- |
| | <!"https://www.paypal.com/en_US/i/btn/view_cart_02.gif"> |
To order by mail click here Secrets of Koga Ryu Ninjitsu
When ordering by mail: Indicate book or item and mail with your
name, address, city, state and zip code to:
Dojo Press
P.O. Box 209
Lake Alfred FL 33850
Please include check or money order. Canada and Foreign
orders, please add $5 per order for shipping. US Funds Only.
DOJO HOMEPAGE AUDIOTAPES VIDEO TAPES FEATURED AUTHOR
VANISHING NINJA SUBMIT YOUR MANUSCRIPT INQUIRIES COMPANY PROFILE
For General or Advertising Information Contact: Dojo Press
Copyright © 2012 Dojo Press
All rights reserved. Do not duplicate or redistribute in any form. SM112476