NECKBREAKERS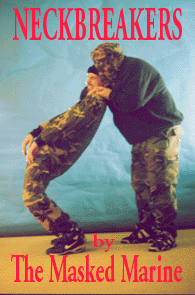 By The Masked Marine
Secret Killing Techniques of Instantaneous Death
This manual will teach you the fine art of killing a man with your bare hands. AND, the secret striking
techniques to set him up, lock him in place, and snap his neck like a twig! Practice these techniques until they are fluid, take the enemy by surprise and increase your chance of victory by tenfold.
The Masked Marine began his martial arts training at the age of fifteen. He is trained in Tiger Style Kung Fu, Marine Corps Hand-to-Hand Combat, and Ninjitsu.
He is an honored member of the covert Ninja brotherhood who trains only select students by private tuition. More than that, he will not say...
8 1/2 x 11; softcover;

Retail $15.95 + $7 Priority Shipping
Pay With PayPal
| | |
| --- | --- |
| | <!"https://www.paypal.com/en_US/i/btn/view_cart_02.gif"> |
To order by mail click here NECKBREAKERS
When ordering by mail: Indicate book or item and mail with your
name, address, city, state and zip code to:
Dojo Press
PO Box 209
Lake Alfred FL 33850
Please include check or money order. Canada and Foreign
orders, please add $15 per order for First Class Postge. US Funds Only.
DOJO HOMEPAGE CDs DVDs FEATURED AUTHOR
SUBMIT YOUR MANUSCRIPT INQUIRIES COMPANY PROFILE
For General or Advertising Information Contact: Dojo Press
Copyright © 1998 Dojo Press
All rights reserved. Do not duplicate or redistribute in any form.