Secret NINJA Exercises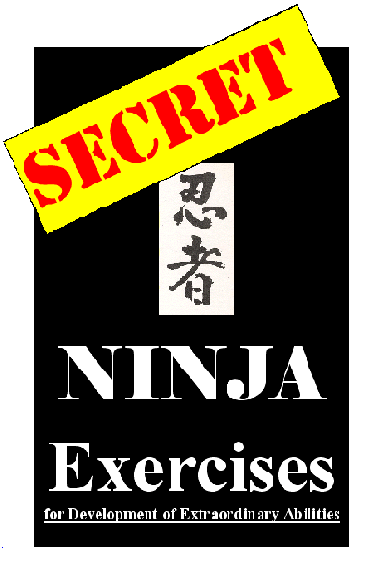 "Dozens of simple exercises and games that will sharpen your memory, improve your reasoning skills, and give you a few secret powers..."
It was said that the Ninja could be detected, even in disguise, by the unusual manner inwhich they would sometimes jump out of danger. Given here is the secret training method for that very Leaping Kung for which they were famous.
The Ninja, as spies and scouts, were required to memorize large amounts of intelligence data and be able to recall from memory minute details of terrain and enemy troop positions. For this purpose they developed their Short Term memory Skills.
The Ninja were known for their ability to penetrate unseen anywhere. One of the techniques theyused for thispurpose was the theatrical arts of the Kabuki. Both as performers and as agents who were masters of disguise.
For Strategy and Tactics practice, they played an ancient Chinese game that was the forerunner of modern Chess, as well as the purely Japanese game of constructing walls around the opponent's parts of the board using small black and white stones until all his territory is captured known as Go.
By these means, the Ninja were able to prevail in every situation. The MInd is the ultimate weapon. Learn to exercise yours...
Paperback- $17.95 + $7 Priority Shipping
Pay With PayPal
| | |
| --- | --- |
| | <!"https://www.paypal.com/en_US/i/btn/view_cart_02.gif"> |
To order by mail click here Secret Ninja Exercises
When ordering by mail: Indicate book or item and mail with your
name, address, city, state and zip code to:
Dojo Press
PO Box 209
Lake Alfred FL 33850
Please include check or money order. Canada and Foreign
orders, please add $15 per order for First Class Postage. US Funds Only.
DOJO HOMEPAGE CDs DVDs FEATURED AUTHOR
SUBMIT YOUR MANUSCRIPT INQUIRIES COMPANY PROFILE
For General or Advertising Information Contact: Dojo Press
Copyright © 1998 Dojo Press
All rights reserved. Do not duplicate or redistribute in any form.