THE ULTIMATE FIST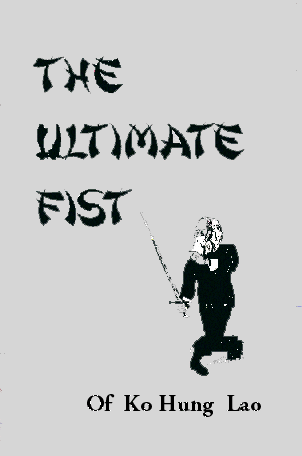 Tai Chi Chuan is the Grand Ultimate Fist of Martial Arts. There are many excellent texts on the forms and various styles. But, Master Ko Hung looks beneath the surface, between the lines, within the words, to demonstrate how each movement can be practiced as an individual exercise, and how it may be applied to interaction with others. In this manner, it can be seen that the "fist" is actually a method of "stepping out of the way" of an attack, as if "dancing" instead of fighting with an opponent. Maintaining peace and harmony without confrontation, through the power of yielding and balance.
Retail $17.95 + $7 Priority Shipping
Pay With PayPal
| | |
| --- | --- |
| | <!"https://www.paypal.com/en_US/i/btn/view_cart_02.gif"> |
To order by mail click here THE ULTIMATE FIST
When ordering by mail: Indicate book or item and mail with your
name, address, city, state and zip code to:
Dojo Press
PO Box 209
Lake Alfred FL 33850
Please include check or money order. Canada and Foreign
orders, please add $15 per order for First Class Postage. US Funds Only.
DOJO HOMEPAGE CDs DVDs FEATURED AUTHOR
SUBMIT YOUR MANUSCRIPT INQUIRIES COMPANY PROFILE
For General or Advertising Information Contact: Dojo Press
Copyright © 1998 Dojo Press
All rights reserved. Do not duplicate or redistribute in any form.