Ninja Five Element Fist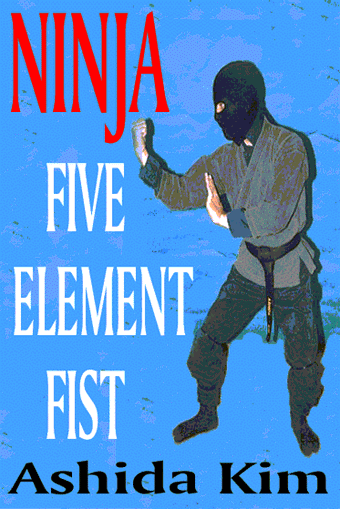 "Earth, Water, Fire, Air, Wood. These are the Five Elements, whereby all manner of things may be accomplished... So begins the mystic Kuji Kiri Chant of the Ninja. Revealed here is the application of this incantation to the principles of unarmed combat. The Ninja made a science of everything and classified it all in accordance with the universal pattern of the linear Five Elements, and the circular Eight Mystic Trigrams. This companion volume to Dancing Ninja Masters, which shows the application of the circular techniques, demonstrates and explains the derivation of both the linear and circular practice forms. *Each is associated with a specific linear direction and breathing technique. *Each is represented by a specific fist and footwork. *Each has a strategic and tactical application. *Each technique balances its opposite. *Each has its cosmic properties and association with the twelve organs of the body. This formal exercise of Ashida Kim's Koga Style Ninjitsu can be used as a basic individual drill, a practice form in class, one-strike self defense, or a solitary philosophical exercise.

Retail $24.95 + $7 Priority Shipping
Pay With PayPal
| | |
| --- | --- |
| | <! "https://www.paypal.com/en_US/i/btn/view_cart_02.gif"> |
To order by mail click here Ninja Five Element Fist
When ordering by mail: Indicate book or item and mail with your
name, address, city, state and zip code to:
Dojo Press
PO Box 209
Lake Alfred FL 33850
Please include check or money order. Canada and Foreign
orders, please add $15 per order for First Class Postage. US Funds Only.
DOJO HOMEPAGE AUDIOTAPES VIDEO TAPES FEATURED AUTHOR
SUBMIT YOUR MANUSCRIPT INQUIRIES COMPANY PROFILE
For General or Advertising Information Contact: Dojo Press
Copyright © 1998 Dojo Press
All rights reserved. Do not duplicate or redistribute in any form.