SECRET NINJA ALCHEMY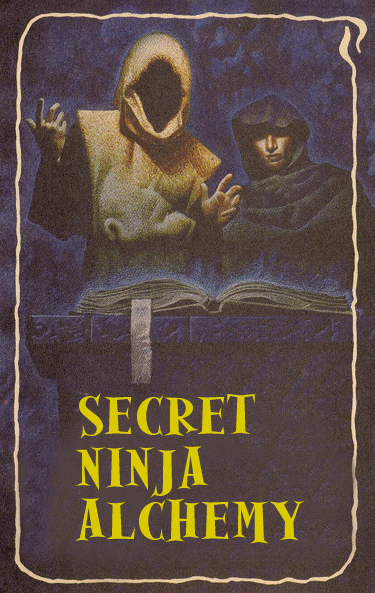 Formerly Iron Body Ninja , Ninja Alchemy reveals for the first time the secrets of the Ninja art of breath control- how to channel, collect, and cultivate the mystical force of Qi to foster health and longevity. It also offers comprehensive techniques for improving control of body and mind and developing the external and internal strength to make the Ninja invulnerable to tiger's claw and serpent's fang. Readers will learn meditation techniques and exercises aimed at attaining optimum performance of all the body's organs, limbs, and systems--endocrine, nervous, and circulatory. Lifelong fitness, greater longevity, and victory over less well trained opponents, a deeper understanding of the Silent Way . . . perhaps even immortality! . . . All this and more awaits the disciplined student.
This book was originally commissioned for Citadel Press (now bankrupt) and called Secret Ninja Alchemy. The publishers were afraid that might appeal to the "wrong element," so they insisted we call it Iron Body Ninja. A subject that was popular when we began and one of the techniques given herein. It was first organized with all the exercises in front and the explanations as an appendix for those who wished to delve deeper. Two years of rewriting later, it was released, then sold to another "shell" company, where it continues to distributed worldwide without the Author's permission. We at DOJO Press have therefore released this text in its proper form. Completely rewritten and republished from original photographs so that no claim of copyright infringement can be made by the former publishers. The information contained in this text is presented for historical academic study only. Now we shall see who was right about how it should have been done.
250 pages; photographs and charts; $29.95 + $5 Priority Shipping
Pay With PayPal
| | |
| --- | --- |
| | <!"https://www.paypal.com/en_US/i/btn/view_cart_02.gif"> |
Exclusive Electronic Online PDF Download $19.95
To order by mail click here SECRET NINJA ALCHEMY
When ordering by mail: Indicate book or item and mail with your
name, address, city, state and zip code to:
Dojo Press
PO Box 209
Lake Alfred FL 33850
Please include check or money order. Canada and Foreign
orders, please add $5 per order for shipping. US Funds Only.
DOJO HOMEPAGE AUDIOTAPES VIDEO TAPES FEATURED AUTHOR
VANISHING NINJA SUBMIT YOUR MANUSCRIPT INQUIRIES COMPANY PROFILE
For General or Advertising Information Contact: Dojo Press, Inc.
Copyright © 1998 Dojo Press, Inc.
All rights reserved. Do not duplicate or redistribute in any form. SM112476