<!p ALIGN="JUSTIFY"> NINJUTSU Complete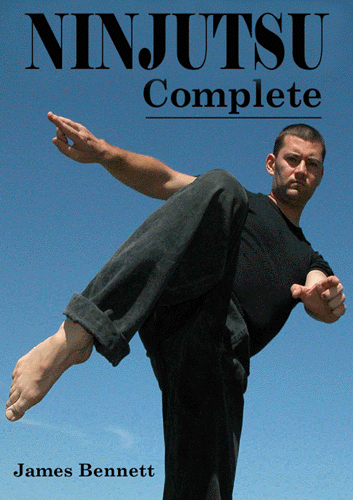 "James Bennett has done for Ninjutsu what Morihei Ueshiba did for Aikido..." Ashida Kim
"A clearly presented text written through a lifetime of study. A terrific read for student and master alike..." Warrior's Way magazine.
Includes:
*Simple Basic and Advanced Ninja Exercises;
*Rolls, Breakfalls, Hand and Body Conditioning; *Strikes, Kicks, Throws and Takedowns;
*Wristlocks, Pressure Points and Dim Mak;
*Stealth and Weaponry;
"This book was originally written as a family treasure. I have decided to publish this book in the hope that others may gain from my experiences. The techniques and philosophy within these pages have been the accumulation of a lifetime of study. The Art of Self Defence is the journey of knowing one's true self. My hope is those seeking truth and enlightenment through the martial arts see this volume as a clear step on the path of a greater journey. There is no greater enlightenment than gaining mastery over one's self." James Bennett
8 1/2 x11; over 200 photos
Retail $29.95 + $7 Priority Shipping
Pay With PayPal
| | |
| --- | --- |
| | <!"https://www.paypal.com/en_US/i/btn/view_cart_02.gif"> |
To order by mail click here NINJA COMPLETE
When ordering by mail: Indicate book or item and mail with your
name, address, city, state and zip code to:
Dojo Press
PO Box 209
Lake Alfred FL 33850
Please include check or money order. Canada and Foreign
orders, please add $15 per order for First Class Postage. US Funds Only.
DOJO HOMEPAGE AUDIOTAPES VIDEO TAPES FEATURED AUTHOR
SUBMIT YOUR MANUSCRIPT INQUIRIES COMPANY PROFILE
For General or Advertising Information Contact: Dojo Press
Copyright © 1998 Dojo Press
All rights reserved. Do not duplicate or redistribute in any form.