A Book of Five Rings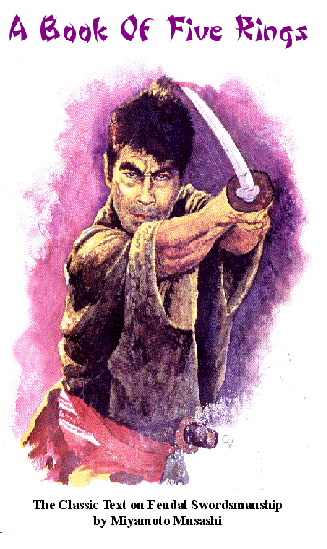 "Strategy is the craft of the warrior. Commanders must enact the craft, and troopers should know this Way. There is no warrior in the world today who really understands the Way of strategy. "
Thus spake Miyamoto Musashi in 1645 A.D.
His simple treatise on the strategy and tactics of swordsmanship, divided into five distinct sections or "rings," remains the classic work on the subject even now, some 400 years after his death. This is the classic text on feudal Japanese swordsmandship. A MUST for any true warrior.
Techniques include:
Three Methods to Forestall the Enemy
Holding Down a Shadow
To Know Collapse
The Three Shouts
The Mountain-Sea Change
The Body of a Rock.
Miyamoto Musashi was the most famous swordsman of feudal Japan. He fought over sixty life-and-death duels, participated in many famous battles, and was never defeated. As a warrior of no small repute, he died peacefully in his bed of old age. Certainly, one might consider the words of such a sage in the art of swordsmanship to be worthy of consideration and contemplation by those who would follow the Way of the Warrior.
50 pages; Pamphlet
Retail $19.95 + $7 Priority Shipping
Pay With PayPal
| | |
| --- | --- |
| | <! "https://www.paypal.com/en_US/i/btn/view_cart_02.gif" > |
To order by mail click here A Book of Five Rings
When ordering by mail: Indicate book or item and mail with your
name, address, city, state and zip code to:
Dojo Press
PO Box 209
Lake Alfred FL 33850
Please include check or money order. Canada and Foreign
orders, please add $5 per order for shipping. US Funds Only.
[This material is given for free on the Internet at BOOK OF FIVE RINGS.
We have merely printed it out because, as Ray Bradbury pointed out in Fahrenheit 451 (the temperature at which paper begins to burn), books may someday be banned and the internet may not always be there. Even now some of the pages have been lost or changed. So, to insure that the information is not lost we make it available in "hard copy" and offer it at a the cost of production, so that all may learn and benefit from this ancient wisdom.]
DOJO HOMEPAGE CDs DVDs FEATURED AUTHOR
SUBMIT YOUR MANUSCRIPT INQUIRIES COMPANY PROFILE
For General or Advertising Information Contact: Dojo Press
Copyright © 1998 Dojo Press
All rights reserved. Do not duplicate or redistribute in any form. SM112476