CHEN Style Tai Chi Chuan Workbook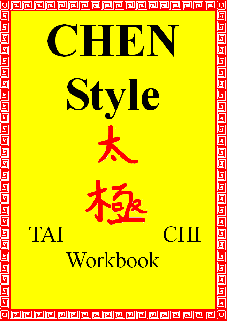 "Sooner or later everyone comes to Tai Chi…"

Ko Hung Lao

Tai Chi Chuan is a particularly long and complicated kata (dance or formal exercise) that was called The Great Dance in ancient times. In contrast to most of the forms encountered in martial arts, this one is slow, uses no "power" or speed, and stressed balance and breathing above all else. There are many techniques that seem to serve no combat or self defense function but the techniques are there nonetheless. Hidden within the subtle movements. Ready to be applied against any attacker with lightning speed when activated by the power of fear. Yet the practice of it conveys to the Tai Chi Player a sense of calm and self assurance. Like most transcendental subjects, the depth and meaning of this exercise cannot be truly conveyed in mere words. The only way to truly understand it is to learn the form and do it for a few years. Then, one day, you will look back and realize how far you have come, how much you have benefited from the practice, and all the subliminal lessons you have learned about health, longevity and your self. It's worth the effort. This book teaches Chen Style Tai Chi Chuan.

This Tai Chi Chuan Instructional Note/Workbook is designed and intended primarily for those who have decided to learn this exercise after age fifty.
The type face is larger than normal so that it can be read from a distance without glasses.
The pages are laid out horizontally and the book is ring bound so that it can be set upright on a nearby table or stand for quick, easy and ready reference.
Each movement is shown in a series of progressive steps and reference or explanatory notes are included for each posture.
The arrows and dotted lines indicate the direction the hands or feet will move to assume the next position in sequence. Dotted lines for the left side, solid lines for the right. This is a standard Chinese publishing technique for instructional booklets of this type.
Retail $29.95 + $7 Priority Shipping
Pay With PayPal
| | |
| --- | --- |
| | <! "https://www.paypal.com/en_US/i/btn/view_cart_02.gif" > |
To order by mail click here Chen Tai Chi
When ordering by mail: Indicate book or item and mail with your
name, address, city, state and zip code to:
Dojo Press
PO Box 209
Lake Alfred FL 33850
Please include check or money order. Canada and Foreign
orders, please add $15 per order for First Class Postage. US Funds Only.
DOJO HOMEPAGE CDs DVDs FEATURED AUTHOR
SUBMIT YOUR MANUSCRIPT INQUIRIES COMPANY PROFILE
For General or Advertising Information Contact: Dojo Press
Copyright © 1998 Dojo Press
All rights reserved. Do not duplicate or redistribute in any form.