Ultimate Fighting-Book Four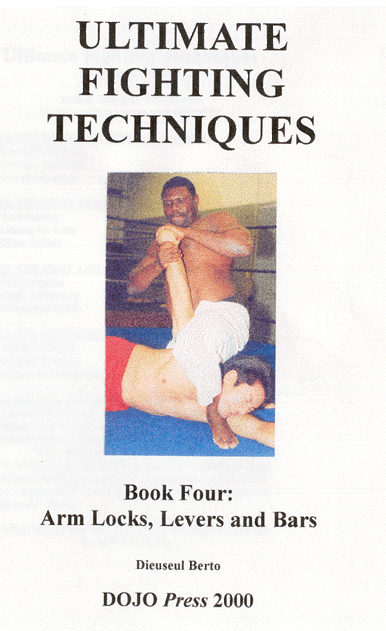 Arm Locks, Levers and Bars
Arm-breaking was an old Jujitsu trick used to punish thieves back when martial arts were getting started hundreds of years ago. They also serve quite well as submission hold for the Ultimate Fighting Arenas. In this fourth of the series, Champion Dieuseul Berto shows you a wide variety of methods for applying crushing, painful pressure to the arm, shoulder and wrist to encourage the opponent to "tap-out" or surrender the contest.
Retail $19.95 + $5 Priority Shipping
Pay With PayPal
| | |
| --- | --- |
| | <! "https://www.paypal.com/en_US/i/btn/view_cart_02.gif" > |
To order by mail click here Ultimate Fighting Book Four
When ordering by mail: Indicate book or item and mail with your
name, address, city, state and zip code to:
Dojo Press
PO Box 209
Lake Alfred FL 33850
Please include check or money order. Canada and Foreign
orders, please add $5 per order for shipping. US Funds Only.
DOJO HOMEPAGE AUDIOTAPES VIDEO TAPES FEATURED AUTHOR
VANISHING NINJA SUBMIT YOUR MANUSCRIPT INQUIRIES COMPANY PROFILE
For General or Advertising Information Contact: Dojo Press, Inc.
Copyright © 1998 Dojo Press, Inc.
All rights reserved. Do not duplicate or redistribute in any form. SM112476