Ultimate Fighting-Book Five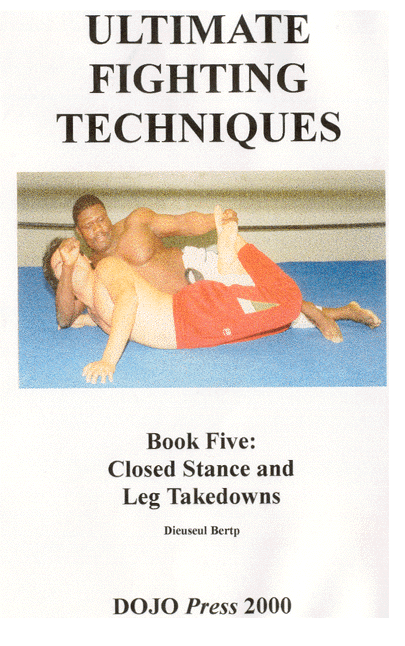 Closed Stance and Leg Locks
Far more than the title suggests, this, the fifth of the series, delivers the advanced techniques of Ultimate Fighting. Once on the ground, Champion Dieuseul Berto illustrates how to control the opponent, making him carry your weight to tire him out, and how to progressively subdue with chain-wrestling techniques. If you want to be a grappler, you can't do better than these instrucitonal manuals to learn from.
Retail $29.95 + $7 Priority Shipping
Pay With PayPal
| | |
| --- | --- |
| | <! "https://www.paypal.com/en_US/i/btn/view_cart_02.gif" > |
To order by mail click here Ultimate Fighting Book Five
When ordering by mail: Indicate book or item and mail with your
name, address, city, state and zip code to:
Dojo Press
PO Box 209
Lake Alfred FL 33850
Please include check or money order. Canada and Foreign
orders, please add $15 per order for First Class Posstage. US Funds Only.
DOJO HOMEPAGE CDs DVDs FEATURED AUTHOR
SUBMIT YOUR MANUSCRIPT INQUIRIES COMPANY PROFILE
For General or Advertising Information Contact: Dojo Press
Copyright © 1998 Dojo Press
All rights reserved. Do not duplicate or redistribute in any form.