Koga Hai Lung Ryu NINJITSU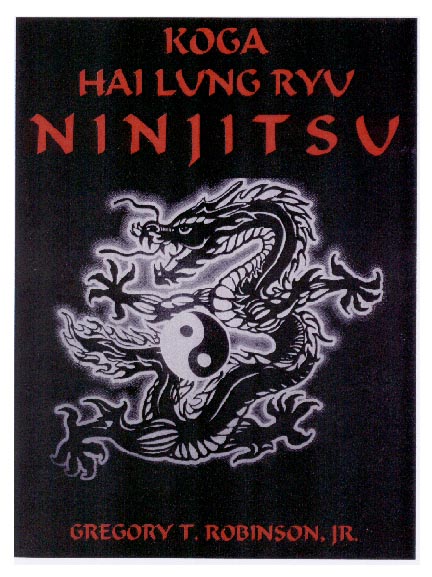 "ONE OF THE BEST INSTRUCTIONAL BOOKS ON
THE ART OF THE NINJA EVER WRITTEN!!!"

Written by Koga-Ryu Ninja, Shihan Gregory T. Robinson, Jr. "Koga Hai Lung Ryu Ninjitsu" is the definitive work on the fundamental principles and techniques practiced by the Black Dragon Ninja of ancient Japan. The first book by Sensei Robinson, this text covers the traditions, training, and forbidden combat tactics of the dreaded Koga Ninja, and is designed to be an informative handbook for both students and instructors. A detailed and comprehensive training guide to the basic fighting methods of the Shadow Warrior, this exceptional book is an in depth look into the mysterious realm of one of feudal Japan's deadliest Ninja clans, the Black Dragon School.
How To Fall
Back
Side
Front Falls

Iron Body
Shinai Practice
Iron Grip Exercise
Makiwara Training

Ninja Self Defense
Unarmed Against Attacker
Defense against Knife and Club
Gun Disarming

Advanced Ninja Techniques
Defenses Against Sword Attack
Special Warfare Tactics
Ninja Creed and Ninja Oath
Retail $29.95 + $7 Priority Shipping
Perfect Bound; 8 1/2 X 11 inches; photos
Pay With PayPal
| | |
| --- | --- |
| | <! "https://www.paypal.com/en_US/i/btn/view_cart_02.gif"> |
To order by mail click here Koga Hai Lung Ryu NINJITSU
When ordering by mail: Indicate book or item and mail with your
name, address, city, state and zip code to:
Dojo Press
PO Box 209
Lake Alfred FL 33850
Please include check or money order. Canada and Foreign
orders, please add $15 per order for First Class Postage. US Funds Only.
DOJO HOMEPAGE AUDIOTAPES VIDEO TAPES FEATURED AUTHOR
SUBMIT YOUR MANUSCRIPT INQUIRIES COMPANY PROFILE
For General or Advertising Information Contact: Dojo Press
Copyright © 1998 Dojo Press
All rights reserved. Do not duplicate or redistribute in any form.