21st Century Weapons of the NINJA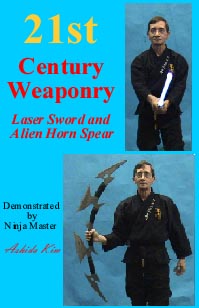 The Ninja are the acknowledged masters of all forms of known weaponry. From ancient times, their arsenal of death dealing devices has been unparalleled.

But, what of the 21st century?

Ninja Master Ashida Kim demonstrates two of the most likely weapons man will face as mankind moves out into space in the new millennia.


ALIEN HORN SPEAR-
Based on the principles of how an alien beast might use its horns, this stainless steel double ended weapon might be used by any warrior race ravaging the universe.

Techniques demonstrated include:


Techniques of Horn and Head


Bayonet Drill


Samurai Applications


Blocking Drills
LASER SWORD-
Man, or some similar alien species, will almost find a method of harnessing Light Amplified by Stimulated Emission of Radiation into a coherent beam that can be used much in the manner of a 20th century sword.

Techniques demonstrated include:


Straight Thrust


Sky-to-Ground Cut


Ground-to-Sky Cut


The Body Cut


The Head Cut
The weapons may change, but the principles of combat, attack and defense, economy of motion, vital and fatal points of attack, remain constant throughout the galaxy. Learn how…
CLICK HERE TO VIEW LASER SWORD ACTION



Retail $19.95 + $7 Priority Shipping
5 1/2 x 8 1/2 inches; photos
Pay With PayPal
| | |
| --- | --- |
| | <! "https://www.paypal.com/en_US/i/btn/view_cart_02.gif"> |
To order by mail click here 21st Century Weapons
When ordering by mail: Indicate book or item and mail with your
name, address, city, state and zip code to:
Dojo Press
PO Box 209
Lake Alfred FL 33850
Please include check or money order. Canada and Foreign
orders, please add $15 per order for First Class Postage. US Funds Only.
DOJO HOMEPAGE CDs DVDs FEATURED AUTHOR
SUBMIT YOUR MANUSCRIPT INQUIRIES COMPANY PROFILE
For General or Advertising Information Contact: Dojo Press
Copyright © 1998 Dojo Press
All rights reserved. Do not duplicate or redistribute in any form.