KUMITE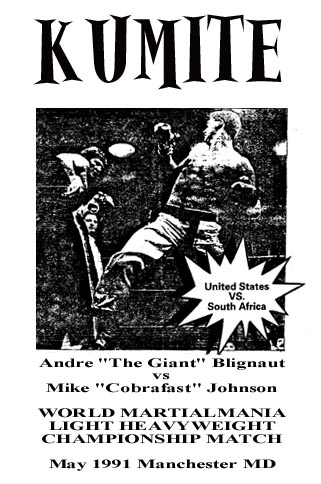 THE BRAWL TO END IT ALL!!!
Mike "Cobrafast" Johnson vs. Andre "The Giant" Blignaut
Grandmaster Ashida Kim was a Ringside Judge at this spectacular event, featuring two dynamic contenders battling it out for the Martialmania Light Heavyweight Kickboxing Title in 1991
"Cobrafast" Mike Johnson had won Championship Belt by TKO the previous year in an SABC televised bout in Johannesburg, South Africa. The South African "Giant" vowed revenge and began a year long quest to regain his title.
Fighting under Martialmania rules, contestants were required to attempt at least three throws per round, points were awarded for clean punches and kicks; scored on the "Ten Point Must" system, with points deducted for fouls or stalling. Win decided by pinfall, knockout, submission or total points.
"This was the FIRST FULL CONTACT KICKBOXING MATCH ever held in Maryland. Long before any 'NO HOLDS BARRED' or 'ULTIMATE FIGHTING' were even heard of. An excellent and controversial match."
Ashida Kim-One of Three Ringside Judges for this Match.

Unlike Anything You Have Ever Seen Before !
A MUST for Collectors, Students, Teachers, Masters, and non-Believers!
50 minutes VHS-NTSC; $29.95

| | |
| --- | --- |
| | <!width="100" height="30"> |
50 minutes; DVD Format; $29.95

| | |
| --- | --- |
| | <!width="100" height="30"> |



To order by mail click here KUMITE
When ordering by mail: Indicate book or item and mail with your
name, address, city, state and zip code to:

Dojo Press
PO Box 209
Lake Alfred FL 33850

Please include check or money order. Canada and Foreign
orders, please add $5 per order for shipping. US Funds Only.

DOJO HOMEPAGE AUDIOTAPES VIDEO TAPES FEATURED AUTHOR
VANISHING NINJA SUBMIT YOUR MANUSCRIPT INQUIRIES COMPANY PROFILE

For General or Advertising Information Contact: Dojo Press, Inc.




Copyright © 1998 Dojo Press, Inc.
All rights reserved. Do not duplicate or redistribute in any form. SM112476