Ashida Kim UNMASKED!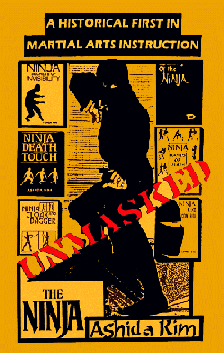 The Code of Silence is Broken...
The Veil of Mystery is Lifted...
See GRANDMASTER ASHIDA KIM Unmasked !!!
As he appears on national television interviews and demonstrates...
Kata Dante, without doubt the Most Savage and Terrifying Self Defense Form Known to Man, in 5 seconds!
INCLUDING:
*Interview on Good Morning Australia
*Appearance on Late Night Live, South Africa
*Full Contact, No-Holds-Barred Martialmania Match with Middelweight Champion Phil Tempel
*Training and Graduation of the Black Dragon Society.
*Unlike anything you've seen before.
1 hour, Color, DVD-NTSC Format; $29.95 + $3 s&h
| | |
| --- | --- |
| | <!width="100" height="30"> |



To order by mail click here Ashida Kim UNMASKED!
When ordering by mail: Indicate book or item and mail with your
name, address, city, state and zip code to:

Dojo Press
PO Box 209
Lake Alfred FL 33850

Please include check or money order. Canada and Foreign
orders, please add $5 per order for shipping. US Funds Only.

DOJO HOMEPAGE AUDIOTAPES VIDEO TAPES FEATURED AUTHOR
VANISHING NINJA SUBMIT YOUR MANUSCRIPT INQUIRIES COMPANY PROFILE

For General or Advertising Information Contact: Dojo Press E-Mail




Copyright © 2014 Dojo Press
All rights reserved. Do not duplicate or redistribute in any form. SM112476