Grandmaster Lawrence Day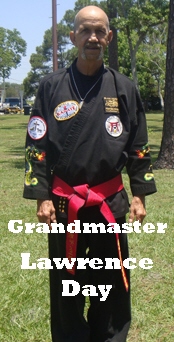 Yang Style Tai Chi Chuan
Postures and 108 Movement Form


USMA Hall of Fame member Grandmaster Dr. Lawrence Day began his Martial Arts journey with the Black Dragon Fighting Society under Count Dante (whose real name was Grandmaster John Keehan) in Chicago. Dr. Day is one of the original Black Dragons that studied under Grandmaster Count Dante and Grandmaster Doug Dwyer and has been a Black Dragon Fighting Society member from the mid 60's to present day. He has also studied with Grandmaster Tanaka.
In this twenty minute video Dr. Day demonstrates the 108 Movements of Yang Style Tai Chi Chuan in the traditional manner of Chinese instruction. Slowly performing and naming each part of this ancient exercise of good health and longevity that is also the Grand Ultimate Fist. This practice is well known for its health giving benefits, all of which are devastating self-defense techniques when powered by the adrenalin of fear.
The movements stretch and flex every part of the body, keeping the limbs supple and the posture straight and tall. They exercise the internal organs to keep you healthy and fit. With time and patient practice this Great Dance can enable you to move in harmony with the flow of the universe. You practice slowly and gracefully. If attacked, you respond with with speed and power. There are two kinds of strength, the outer which is obvious and fades with age. And, the inner, which is more subtle and lasts a lifetime, or a little longer. Tai Chi Chuan is the cultivation of this energy for good health and longevity. Few masters know so well as Dr. Day.



Yang Style Postures include:


Grasp Bird's Tail


Diagonal Flying


Needle at the Bottom of the Sea


Roll Back


Ward Off


Fair Lady Works the Shuttle


And many more…
20 minutes; Color; DVD Format; $29.95 + $5 Priority Shipping
| | |
| --- | --- |
| | <!width="100" height="30"> |



To order by mail click here Yang Tai Chi
When ordering by mail: Indicate book or item and mail with your
name, address, city, state and zip code to:

Dojo Press
PO Box 209
Lake Alfred FL 33850

Please include check or money order. Canada and Foreign
orders, please add $5 per order for shipping. US Funds Only.

DOJO HOMEPAGE AUDIOTAPES VIDEO TAPES FEATURED AUTHOR
VANISHING NINJA SUBMIT YOUR MANUSCRIPT INQUIRIES COMPANY PROFILE

For General or Advertising Information Contact: Dojo Press




Copyright © 2000 Dojo Press
All rights reserved. Do not duplicate or redistribute in any form. SM112476