Pro Gi Gong 1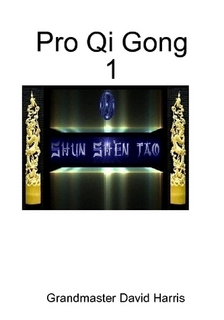 The Shun Shen Tao Pro QiGong (Fast Power Builder) DVD series is designed to place the student of Qi Gong on a rock-solid foundation, rocketing the student up to higher levels of Qi flow. Grandmaster Harris on the first DVD will show you the condensed forms of the fastest Qi power builds ever RELEASED to the public. These forms are the result of years of style distillation and are now produced to train the student rapidly the Shun She Tao way. Applications for the techniques are also given with how-to directions. Healing Applications covered (Qi Gong Emission) 1. Detection & Balancer 2. General --Deep Blockage Remover 3. Balancer & Multi Blockage Remover 4. Large area for Drawing of Bruising, Infection, Immediate Damage 5. Concentrated Drawing of Bruising, Infection, Immediate Damage 6. General Area Balancer 7. Welding Broken Bones and Infection 8. Spinal Damage and Clearing Trigger points 9. General/Tumors and cysts This DVD is not meant/intended/implied to diagnose/treat/cure any disease or condition.

Grandmaster David Harris
<!width="100" height="30">
1 hour, Color, DVD Format; $19.95
| | |
| --- | --- |
| | <!width="100" height="30"> |
To order by mail click here Pro Gi Gong 1
When ordering by mail: Indicate book or item and mail with your
name, address, city, state and zip code to:
Dojo Press
PO Box 209
Lake Alfred FL 33850
Please include check or money order. Canada and Foreign
orders, please add $5 per order for shipping. US Funds Only.
DOJO HOMEPAGE AUDIOTAPES VIDEO TAPES FEATURED AUTHOR
VANISHING NINJA SUBMIT YOUR MANUSCRIPT INQUIRIES COMPANY PROFILE
For General or Advertising Information Contact: Dojo Press
Copyright © 2009 Dojo Press
All rights reserved. Do not duplicate or redistribute in any form. SM112476