Pro Gi Gong 2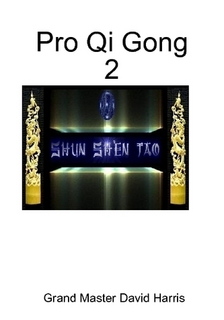 In the Pro QiGong 2 (Fast Power Builder 2) DVD Grandmaster Harris will lead you through sets of very powerful and advanced Qi building exercises. These advanced exercises will help you create Qi flows that are the foundational bases for skills only spoken of in legends. These exercises have been stripped of all the masking and streamlined for fast understanding with demonstrations. Grand Master David makes it easy for just about anyone to develop quickly. This DVD is not meant/intended/implied to diagnose/treat/cure any disease or condition. One chooses to participate in these activities at one's own risk.

Grandmaster David Harris
<!width="100" height="30">
1 hour, Color, DVD Format; $19.95
| | |
| --- | --- |
| | <!width="100" height="30"> |
To order by mail click here Pro Gi Gong 2
When ordering by mail: Indicate book or item and mail with your
name, address, city, state and zip code to:
Dojo Press
PO Box 209
Lake Alfred FL 33850
Please include check or money order. Canada and Foreign
orders, please add $5 per order for shipping. US Funds Only.
DOJO HOMEPAGE AUDIOTAPES VIDEO TAPES FEATURED AUTHOR
VANISHING NINJA SUBMIT YOUR MANUSCRIPT INQUIRIES COMPANY PROFILE
For General or Advertising Information Contact: Dojo Press
Copyright © 2009 Dojo Press
All rights reserved. Do not duplicate or redistribute in any form. SM112476