Advanced "Yes Therapy"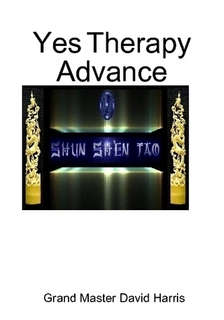 In this DVD, Grandmaster David Harris demonstrates the Yes Technique, which is an energetic technique in the form of a structured prayer. Grandmaster David Harris would like to once again share the skills and abilities of the Shun Shen Tao for the benefit of those who seek healing and knowledge. The "Yes Technique" is one of, if not the easiest and most powerful of all, the Shun Shen Tao techniques. You will be amazed by the awesome power of this system. This DVd teaches higher indications of used as compared to the Yes Therapy Basic DVD. This DVD is not meant/intended/implied to diagnose/treat/cure any disease or condition.

Grandmaster David Harris
<!width="100" height="30">
1 hour, Color, DVD Format; $19.95
| | |
| --- | --- |
| | <!width="100" height="30"> |
To order by mail click here Advanced "Yes Therapy"
When ordering by mail: Indicate book or item and mail with your
name, address, city, state and zip code to:
Dojo Press
PO Box 209
Lake Alfred FL 33850
Please include check or money order. Canada and Foreign
orders, please add $5 per order for shipping. US Funds Only.
DOJO HOMEPAGE AUDIOTAPES VIDEO TAPES FEATURED AUTHOR
VANISHING NINJA SUBMIT YOUR MANUSCRIPT INQUIRIES COMPANY PROFILE
For General or Advertising Information Contact: Dojo Press
Copyright © 2009 Dojo Press
All rights reserved. Do not duplicate or redistribute in any form. SM112476