NINJA Femme Fatale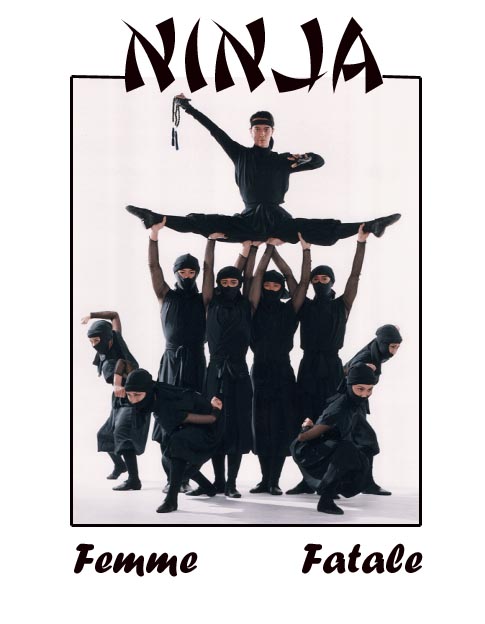 The term "femme fatale" is French. It is used to describe women so beautiful that no man can resist their charms and thus fall victim to their larcenous, lascivious or manipulative ways. Very often these women are "black widows," meaning that they marry a rich man for his money shortly before he dies in a fatal "accident."
In ancient times such women trained together to be spies and assassins of the Ninja. They used every devious trick they could think of to help defend their homes and families and shared equally in the victories of their clan.
In modern times we teach these methods of self-defense to empower people, men and women, so they no longer need walk in fear or be abused. You can fight back. You can win. You can break the cycle of violence that enslaves us all. What is required is the Will. Practicing these techniques will develop that.
Dare to be great. Be the captain of your fate, the master of your soul. Seize the day and enjoy your life. Stand up for yourself and do the right thing. Only you can free your Self.
These ancient practices can be used by the girls and women of today to improve strength, flexibility, fitness, character and self-confidence. In this book you will find the Dragon Lady system of Ninjitsu combat that teaches how to defend against any attacker, how to distract, disable, disarm and then disappear into the night.
Illustrated throughout with clear, easy to follow photographs, this training manual will encourage and empower any woman who reads it. With just a few simple movements anyone can defend themselves effectively. Never walk alone again, carry the secrets of Ninja self-defense as your hidden weapon and fear no man.
5 1/2 x 8 1/2; photographs; 175 pages

$29.95 + $7 Priority Shipping
Pay With PayPal

| | |
| --- | --- |
| | <!"https://www.paypal.com/en_US/i/btn/view_cart_02.gif"> |
To order by mail click here NINJA Femme Fatale
When ordering by mail: Indicate book or item and mail with your
name, address, city, state and zip code to:
Dojo Press
PO Box 209
Lake Alfred FL 33850
Please include check or money order. Canada and Foreign
orders, please add $15 per order for First Class Postage. US Funds Only.
DOJO HOMEPAGE CDs DVDs FEATURED AUTHOR
SUBMIT YOUR MANUSCRIPT INQUIRIES COMPANY PROFILE
For General or Advertising Information Contact: Dojo Press
Copyright © 2010 Dojo Press
All rights reserved. Do not duplicate or redistribute in any form.