Way of the GRANDMASTER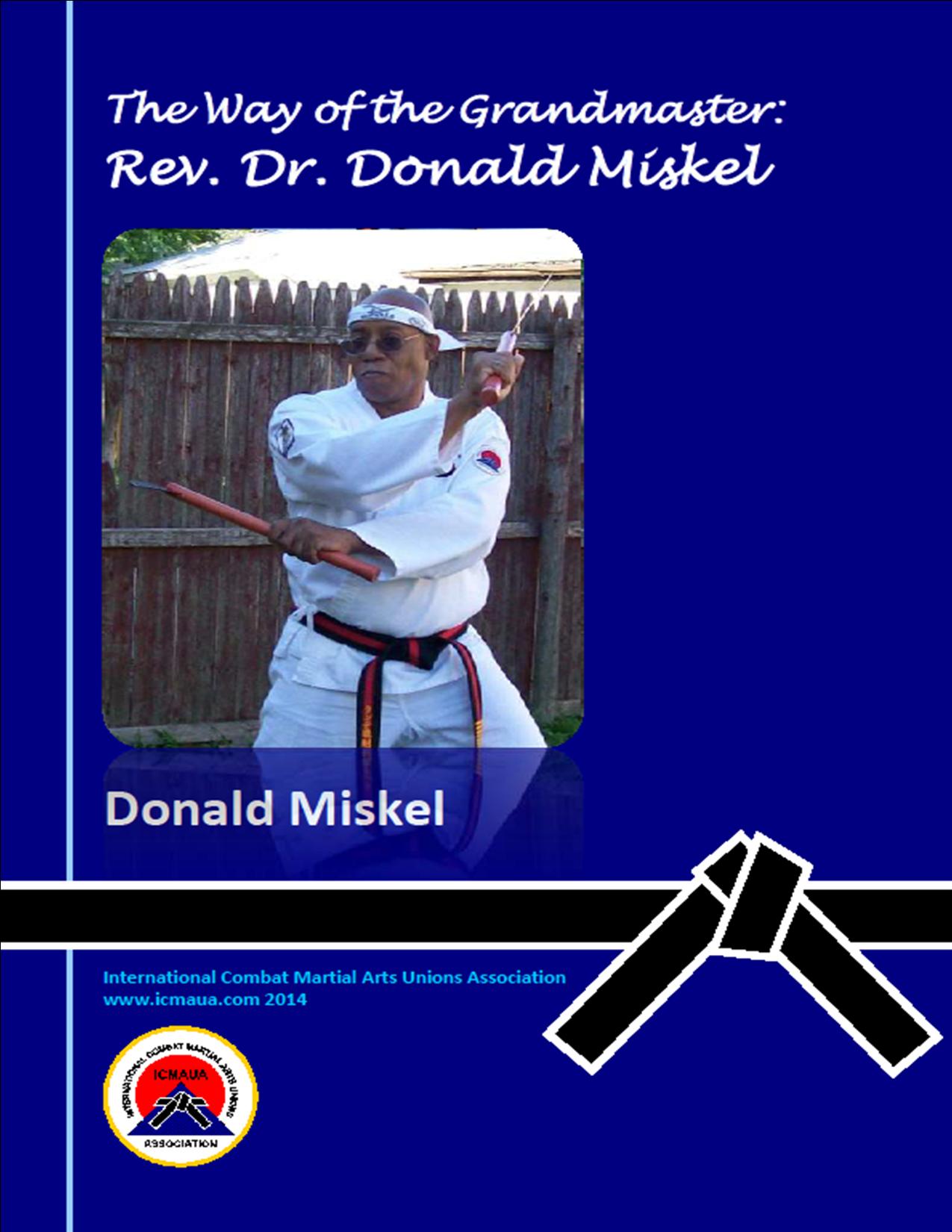 Published online in PDF format by the International Combat Martial Arts Unions Association, this hard copy edition of the Black Dragon Fighting Society Grandmaster Rev. Dr. Donald Miskel is produced by DOJO Press as part of the living legacy of our fellowship.
Dr. Miskel is an ordained minister and Viet Nam veteran who grew up on the mean streets of 1960s Chicago. As he describes it, "When I was sixteen years old I met Sensei Douglas Dwyer at Van Boskirkís, a local sporting goods store; the only one that sold martial art equipment in the South Side of Chicago. He was working the sais in the aisle of the store and I was thoroughly fascinated. I began training with him in Shorei Goju karate. He had recently opened a school on west 63RD street on Chicagoís South Side. I was the first and only African-American student in the school. Chicago was a pretty segregated city and the neighborhoods tended to be ethnic, so it was risky for a black kid to be in that area at night."
"I have studied several other systems under various instructors and masters over my fifty seven years in the martial arts. I have had several commercial schools and have taught for the YMCA and the Chicago Park District. I am the Judan Shodai Soke, co-founder and senior Grandmaster of the Black Lotus Martial Art Association and Iím a Patriarch, senior grandmaster and the Head of Family of the IFAA Black Dragon Fighting Society. I am the pastor and senior advisor for Kenpo Karate Family International and a chaplain through the Shinja Martial Art Association. I also serve as a board member of several other martial art organizations."

In these pages, Grandmaster Miskel shares his wit and insight into the deeper meaning of martial arts. Essays like, "A Scientific Breakdown of the Strike" discuss the difference between a crushing strike, a compression strike, a jarring strike, a stunning strike, and a shocking strike that will render an opponent unconscious. All depend on penetration, focus and understanding the internal efffects of these blows. Grandmaster Miskel explains the foundations and origins of many of the systems developed today. He speaks fondly of the early days and battles and with pride at the direction our brotherhood is going in the future. He talks about martial arts snobbery and petty jealousy that divide us and about the need for unity and tolerance. He reminisces about the old days in Chicago, he speaks of the philosophical principles that form our code of conduct and chivalry, and explains the concept of "coming full circle," so that, in the end, the techniques of the Grandmaster are as simple as those of a beginner, only devastatingly more effective.
Don't miss this once in a lifetime opportunity to meet the master, one who been there and back again, and discover some of the wisdom he has earned and would share with you.
Retail $29.95 + $7 Priority Postage
Pay With PayPal
| | |
| --- | --- |
| | <! "https://www.paypal.com/en_US/i/btn/view_cart_02.gif" > |
To order by mail click here Way of the Grandmaster
When ordering by mail: Indicate book or item and mail with your
name, address, city, state and zip code to:
Dojo Press
PO Box 209
Lake Alfred FL 33850
Please include check or money order. Canada and Foreign
orders, please add $15 per order for First Class Postage. US Funds Only.
DOJO HOMEPAGE CDs DVDs FEATURED AUTHOR
DIGITAL E-BOOKS SUBMIT YOUR MANUSCRIPT INQUIRIES COMPANY PROFILE
For General or Advertising Information Contact: Dojo Press
Copyright © 2015 Dojo Press
All rights reserved. Do not duplicate or redistribute in any form.