KUNOICHI /Deadly Sisterhood of the Ninja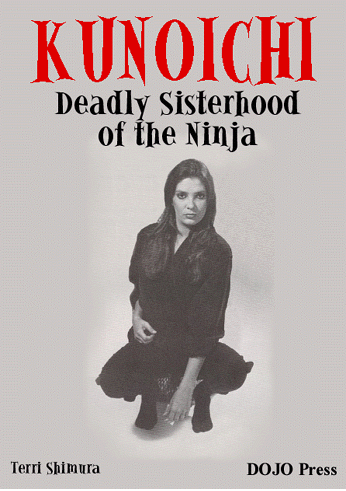 Only the female Ninja of feudal Japan were capable of matching wits with their masculine Ninja counterparts. Now the advanced techniques of Kunoichi-no-Jitsu can teach you to meet and over come even a larger, stronger adversary. Here are the tactics and maneuvers, deceit and strategy, and how to use them to your advantage. Attack the most vulnerable and vital parts of the body for instant results. Escape from any hold. Entice and destroy using the exotic weapons of this feminine but deadly sisterhood– the innocuous fan or the simple sash. Perhaps a cleverly concealed sleeve arrow or sharpened metal fingertips. The ultimate in subtle self defense. Excellent for Self Defense, simple and easy to understand. You can't afford to be without this information in today's turbulent and violent society.
Retail $19.95 + $7 Priority Shipping
Pay With PayPal
| | |
| --- | --- |
| | <!"https://www.paypal.com/en_US/i/btn/view_cart_02.gif"> |
To order by mail click here KUNOICHI
When ordering by mail: Indicate book or item and mail with your
name, address, city, state and zip code to:
Dojo Press
PO Box 209
Lake Alfred FL 33850
Please include check or money order. Canada and Foreign
orders, please add $15 per order for First Class Postage. US Funds Only.
DOJO HOMEPAGE CDs DVDs FEATURED AUTHOR
SUBMIT YOUR MANUSCRIPT INQUIRIES COMPANY PROFILE
For General or Advertising Information Contact: Dojo Press
Copyright © 1998 Dojo Press
All rights reserved. Do not duplicate or redistribute in any form.