Smoker's Revenge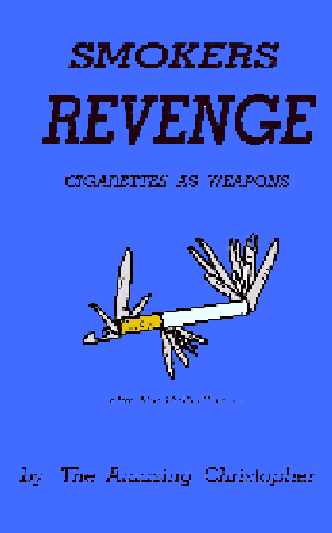 "Cigarettes As Weapons"

Smoker's Revenge is an amusing and entertaining excursion into the unorthodox field of improvised weapons. Cigarette smoking has lately come under a barrage of attacks infringing on the rights of free people to choose the manner in which they wish to punish themselves. But, back when the art was popular there developed no end of magic tricks, clever ad campaigns, and cowboy role models. Even before then, when the Europeans discovered the wonders of Indian tobacco, there developed a mythology, a clannish fellowship of fire-breathers, and a martial art that could be employed in the roughest districts without reprisal or condemnation. The simple tricks of handing, tossing to, or stinging with a hot ember, were excellent distraction devices. And, when applied to the proper target, the slim cylinder of death could inflict a mortal or maiming injury. Learn how to "Make 'Em Do The Bear Dance," how to "Sting Like A Bee," how to spit, hurl, toss and flick this tiny, fragile weapon against even the largest opponent with significant and effective results.

8 1/2 x 11, softcover

$17.95 + $7 Priority Shipping

Pay With PayPal
| | |
| --- | --- |
| | <!"https://www.paypal.com/en_US/i/btn/view_cart_02.gif"> |
To order by mail click here Smoker's Revenge
When ordering by mail: Indicate book or item and mail with your
name, address, city, state and zip code to:
Dojo Press
PO Box 209
Lake Alfred FL 33850
Please include check or money order. Canada and Foreign
orders, please add $15 per order for First Class Postage. US Funds Only.
DOJO HOMEPAGE CDs DVDs FEATURED AUTHOR
SUBMIT YOUR MANUSCRIPT INQUIRIES COMPANY PROFILE
For General or Advertising Information Contact: Dojo Press
Copyright © 1998 Dojo Press
All rights reserved. Do not duplicate or redistribute in any form.