Sword of the NINJA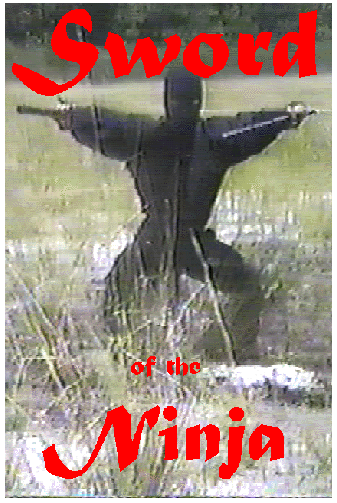 Drawn from the vast experience of Ninja weapons lore, Sensei Ashida Kim demonstrates the secret training methods used to overcome even the most skilled swordsman of feudal Japan, the Samurai.

This DVD provides a summary of basic sword forms and etiquette of weaponry in simple drills and advanced movements of attack, defense, and concealment found only in the Forbidden Sword Form of the Koga Ninja.
In this single dynamic exercise you will learn:

Sword Etiquette- Presentation Bow, Kneeling Iaijitsu, Kamae (Stances)

Five Basic Cuts- Ground to Sky, Sky to Ground, Shoulder Cleaving, Belly Cut, Lunge to Throat, Thrust to Heart

Iaijitsu (Quick Drawing the Sword)- Bilateral, Horizontal and Vertical Cuts, Chiburi (Slinging Blood Off the Blade)

Hsiao Chien Do-
Way of the Hidden Sword


One need not be a master to protect oneself with these secret and terrifying Ninja self-defense methods.

Long Sword of the Ninja- History and explanation,
Spear and Bayonet Techniques,


Short Sword- Iaijitsu Quick Draw Techniques,
Chiburi and cleaning the blade


Tanto- Hidden Dagger Tricks,
Roman Short Sword


Kendo Practice- Formal Blocks and Strikes with the Shinai,
Free Sparring Drill


Batto Jitsu- Formal Cutting Practice,
Training and Instruction


Batto Jitsu- Formal Cutting Practice,
Training and Instruction, Traditional Sword Etiquette


Secret Ninja Sword Form- Dynamic Cutting Drills,
Performance Kata


Ninja Sword of the Mind- Swordhand, Spearhand,
and Iron Palm Training,

1 hour; Color; DVD Format; $29.95
| | |
| --- | --- |
| | <!width="100" height="30"> |




To order by mail click here Sword of the NINJA
When ordering by mail: Indicate book or item and mail with your
name, address, city, state and zip code to:

Dojo Press
PO Box 209
Lake Alfred FL 33850

Please include check or money order. Canada and Foreign
orders, please add $5 per order for shipping. US Funds Only.

DOJO HOMEPAGE AUDIOTAPES VIDEO TAPES FEATURED AUTHOR
VANISHING NINJA SUBMIT YOUR MANUSCRIPT INQUIRIES COMPANY PROFILE

For General or Advertising Information Contact: Dojo Press




Copyright © 1998 Dojo Press
All rights reserved. Do not duplicate or redistribute in any form. SM112476