NINJA-Hands Of Death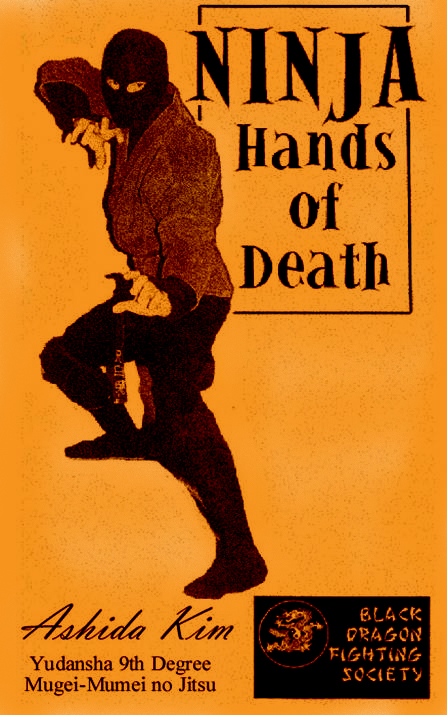 Kata Dante -The Dance of the Deadly Hands-
is, without doubt, the most Savage and Terrifying Self-Defense Form Known To Man. It is composed of twenty-seven of the deadliest Poison Hand techniques ever devised by the mind of man, each one of which is guaranteed to kill, cripple, or maim any opponent.
Kata Dante is not for the squeamish nor the weak at heart. Original attempts in 1989 to produce this classic self-defense video were met with outright resistance from the establishment martial arts community due to the lethal brutality of the techniques and the covert and hidden nature of Ninjitsu. So much so that it had to shot secretly in South Africa and smuggled back into the United States.

This video includes:
* Step-by-step instructional training; with training aids, partners and solo practice to achieve a test performance time of ten seconds or less.
* Live interview on SABC with Kevin Savage and formal presentation of Kata Dante
* KUMITE– Full Contact, No-Holds-Barred Match vs. Phil Tempel, S.A Middleweight Champion
* BLACK DRAGON FIGHTING SOCIETY- Introduction, Class Instruction and Graduation Testing in Johannesburg

This is the legendary exercise taught to all members of the Black Dragon Fighting Society by Count Juan Raphael Dante in the 1960s. It is "instant self-defense" because each and every one of the movements is the equivalent of a loaded gun, except that they can never be taken away or used against you. And, it can be learned in the privacy of your own home in just minutes a day. In fact, even if you only read this book once, you will be armed with enough knowledge to defend yourself; if you have the will to use it.
The techniques on this DVD are demonstrated by Grandmaster Ashida Kim. Some critics have said, "Ashida Kim is a fake and a coward who will never take off his mask or prove himself in the ring…" Here is a chance to see and judge for yourself just who is the real Ninja master and watch as he trains the first open Black Dragon Fighting Society chapter in South Africa."


Never be afraid again!
Be the Master of your Fate, the Captain of your Soul!
Be one of the Few, the Chosen!
Ninja of the Black Dragon Fighting Society!
Don't leave home without it ! ! !
1 hour; Color; DVD Format; $29.95
| | |
| --- | --- |
| | <!width="100" height="30"> |
HOME PAMPHLETS BOOKS FEATURED AUTHOR
VANISHING NINJA SUBMIT YOUR MANUSCRIPT INQUIRIES COMPANY PROFILE
To order by mail: Indicate book or item and mail with your
name, address, city, state and zip code to:
Dojo Press
PO Box 209,
Lake AlFred, FL 33850.
Please include check or money order. Canada and Foreign
orders, please add $10 per order for shipping. US Funds Only.
For General or Advertising Information Contact:
Dojo Press
Copyright © 2013 Dojo Press
All rights reserved. Do not duplicate or redistribute in any form. SM112476