EXERCISES FOR GOOD HEALTH AND LONGEVITY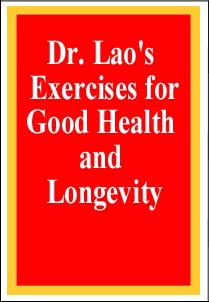 Dr. Ko Hung Lao presents the Sun and Moon Salutes of Hatha Yoga and the Tibetan Lamasery Exercises of Immortality.

Ta Chuan, the Great Treatise of Chinese Medicine says: "By means of the easy and simple we grasp the laws of the whole world. When the laws of the whole world are grasped, therein lies perfection."

All of the exercises of solo cultivation of energy found in this small text are easy and simple, having been devised over 6000 years ago by ancient man in the absence of "modern" medicine. The beauty of these methods is that one need not understand them intellectually or anatomically in order for them to function perfectly well. Such a scholarly study is interesting on many levels, but is not necessary or required.

That these exercises have survived virtually intact for so long and enjoy a revival every twenty years or so as each new generation "discovers" them, is a testament to their ability to keep the body healthy and prevent many illnesses that may lead to incurable disease and premature death.


They are collected here so they will not be lost to the sands of time, in the hope that they may provide some benefit to others seeking good health and longevity as they have for me.

Ko Hung Lao,
Doctor Emeritus, Hong Kong 1939

Included inthe handbook:


Sooryanamaskar- Sun Salute to align the vertebrae


Chandra Namaskar- Moon Salute to tone the organs


The Lamasery Exercises- to balance the endocrine system


Padmasana- The Exercise of Stillness


The Six Healing Breaths- for good health maintenance
SO, WHAT ARE YOU WAITING FOR?
Who wants to live forever?

Here are the means whereby the Ancients did it!!!
Train yourself and be your own Master!


Breathing Exercise of Ko Hung Lao VIDEO- $29.95


Retail $19.95 + $7 Priority Shipping
5 1/2 x 8 1/2 inches;illustrated
Pay With PayPal
| | |
| --- | --- |
| | <! "https://www.paypal.com/en_US/i/btn/view_cart_02.gif"> |
To order by mail click here Good Health and Longevity
When ordering by mail: Indicate book or item and mail with your
name, address, city, state and zip code to:
Dojo Press
PO Box 209
Lake Alfred FL 33850
Please include check or money order. Canada and Foreign
orders, please add $15 per order for First Class Postage. US Funds Only.
DOJO HOMEPAGE CDs DVDs FEATURED AUTHOR
SUBMIT YOUR MANUSCRIPT INQUIRIES COMPANY PROFILE
For General or Advertising Information Contact: Dojo Press
Copyright © 1998 Dojo Press
All rights reserved. Do not duplicate or redistribute in any form.