Exercises for
Good Health and Longevity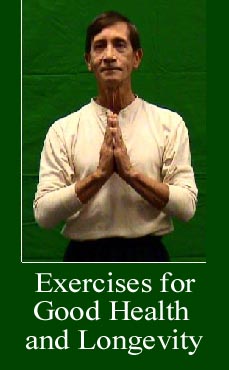 Ninjitsu Master Ashida Kim demonstrates three callisthenic methods of promoting good health and longevity.

"These methods of improving posture to enhance breathing, massaging the internal organs to promote proper digestion, and regulating the functioning of the endocrine system have been used for centuries."

Techniques illustrated on this DVD include:


The Sun Salute of Hatha Yoga- a simple and effective method of aligning the strengthening the vertebrae

The Moon Salute– an exercise that hydraulically massages the internal organs

The Tibetan Lamasery Exercise– reported to have been practiced by immortals of the Orient for more than six thousand years These are the ancient and secret methods used by primitive, natural man and modern mystics to keep themselves fit and healthy.
20 minutes; VHS-NTSC Format; $29.95
| | |
| --- | --- |
| | <!width="100" height="30"> |
20 minutes; DVD Format; $29.95
| | |
| --- | --- |
| | <!width="100" height="30"> |
To order by mail click here Breathing Exercise of Dr. Lao
When ordering by mail: Indicate book or item and mail with your
name, address, city, state and zip code to:
Dojo Press
PO Box 209
Lake Alfred FL 33850
Please include check or money order. Canada and Foreign
orders, please add $5 per order for shipping. US Funds Only.
DOJO HOMEPAGE AUDIOTAPES VIDEO TAPES FEATURED AUTHOR
VANISHING NINJA SUBMIT YOUR MANUSCRIPT INQUIRIES COMPANY PROFILE
For General or Advertising Information Contact: Dojo Press
Copyright © 1998 Dojo Press
All rights reserved. Do not duplicate or redistribute in any form. SM112476