DOJO-First Aid And Resuscitation Volume One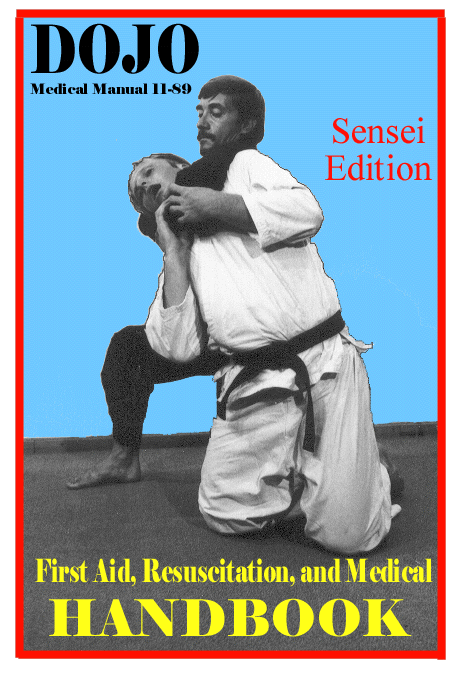 DOJO-Academy of Martial Arts presents the prescribed course and syllabus of study leading to Black Belt graduation in Kuatsu, the Power to Kill and Restore to Life...

Basic and Advanced Patient Assessment

Artificial Respiration

Kuatsu Revivification Methods

Fetal Recovery Position

Solo and Two-Man CPR

Atemi-Waza/Dim Mak Death Blows

Japanese Sleeperhold

Basic First Aid

Common and Advanced Dojo Injuries

Diagnosis and Treatment of Pre-Existing Conditions

The Seven Requirements of Proficiency

Mind Gate Methods Psychological Techniques Sensei James Daugherty, Black Belt 3rd Degree, Pole Star School of Martial Arts, a Certified Instructor of the DOJO Academy Staff demonstrates and explains each technique from the most basic aspects of patient assessment to advanced revivification methods. Most applicants for graduation do not perform all of these techniques for evaluation. But, this presentation is so complete it serves perfectly as a visual guide to accompany the material given in the DOJO Medical Manual-Sensei Edition. And beyond, as an instructional guide to a wide variety of basic and advanced medical techniques. Volume One of this set includes lethal Dim Mak strikes guaranteed to kill, cripple or maim any attacker without years of grueling practice or demeaning servitude. It also provides instruction in the Japanese Sleeperhold as well as diagnosis and treatment of more common Dojo injuries. If you want a "real" Black Belt, then you must know how to heal as well as injure. If you learn even half this material, you will be a skilled martial artist and qualified for medical rank and certification.


70 minutes; DVD Format; $29.95
| | |
| --- | --- |
| | <!width="100" height="30"> |
To order by mail click here DOJO-First Aid and Resuscitation
When ordering by mail: Indicate book or item and mail with your
name, address, city, state and zip code to:
Dojo Press
PO Box 209
Lake Alfred FL 33850
Please include check or money order. Canada and Foreign
orders, please add $5 per order for shipping. US Funds Only.
DOJO HOMEPAGE AUDIOTAPES VIDEO TAPES FEATURED AUTHOR
VANISHING NINJA SUBMIT YOUR MANUSCRIPT INQUIRIES COMPANY PROFILE
For General or Advertising Information Contact: Dojo Press
Copyright © 1998 Dojo Press
All rights reserved. Do not duplicate or redistribute in any form. SM112476