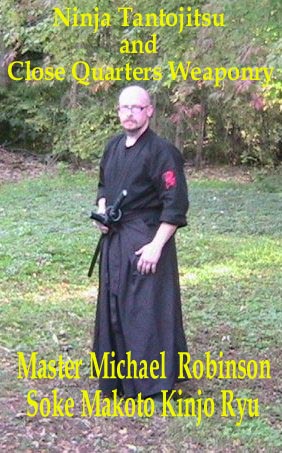 Master Michael Robinson
Soke Michael Robinson is the founder of his own system Makoto Kinjo Ryu Budo, earning various Hall of Fame awards and recognition. This Family System of "Kinjo Sensei" is a functional progressive blend of five base arts corresponding to the five elements of creation. The Makoto Kinjo Ryu Budo style is privately taught, only transmitted to family or those otherwise initiated. It was designed to be a family treasure containing martial as well as spiritual arts and practices. We work to maintain a combat orientated martial art (Self Preservation) while providing the student various points of initiation in order to work towards wholeness (Self perfection).
Master Robinson holds yudansha (Black Belt) or equivalent in each of the arts that make up the core of the system. DOJO Press has been commissioned to release the "Okami Sumika-Wolf's Den Ninjutsu" style as taught within the Makoto Kinjo Ryu.
"The martial arts are about self-discovery, not different from other pursuits of the soul such as music, spirituality, or creative writing. They are facets of the whole and it is in this intention that we must approach our training and our lives. Our Budo program is very intense and complete. By covering all ranges of combat in the physical realm and more importantly methods for dealing with conflict of the mental and spiritual realms we work towards wholeness." — Master Michael Robinson
TRIADIC MARTIAL ARTS "Holistic Warrior Arts" for those who wish to go beyond the self-made or imposed walls that limit our true potential!