BLACK BELT INSTRUCTORS MANUAL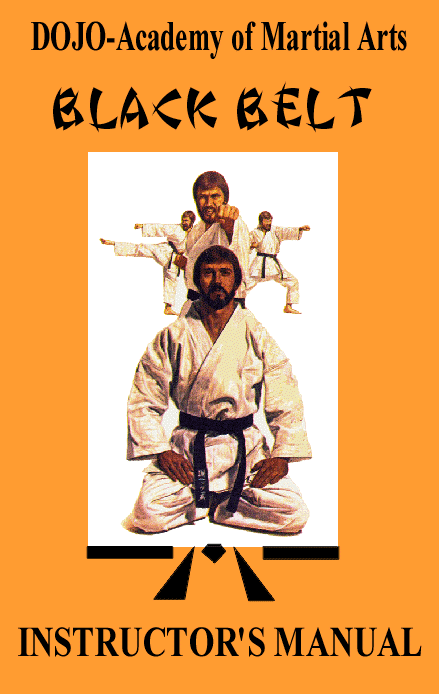 Includes:
*Basic Drill and Ceremonies
*Belt Rank and Chain of Command
*Five Basic Kata
*Two Man Form
*Principles of Teaching
This is the Basic Course and Syllabus leading to graduation as Black Belt 1st Degree, Induction into Black Belt International and DOJO-Academy of the Martial Arts Teaching Certificate. We are the ONLY Martial Arts Fraternity to award such a certification upon presentation of qualifying credentials in any style or system of the fistic and grappling arts.

8 1/2 x 11; 200 pages; photos and illustrations: Retail $44.95 + $7 Priority Shipping
Pay With PayPal
| | |
| --- | --- |
| | <!"https://www.paypal.com/en_US/i/btn/view_cart_02.gif"> |
To order by mail click here BLACK BELT INSTRUCTORS MANUAL
When ordering by mail: Indicate book or item and mail with your
name, address, city, state and zip code to:
Dojo Press
PO Box 209
Lake Alfred FL 33850
Please include check or money order. Canada and Foreign
orders, please add $15 per order for First Class Postage. US Funds Only.
DOJO HOMEPAGE AUDIOTAPES VIDEO TAPES FEATURED AUTHOR
SUBMIT YOUR MANUSCRIPT INQUIRIES COMPANY PROFILE
For General or Advertising Information Contact: Dojo Press
Copyright © 1998 Dojo Press
All rights reserved. Do not duplicate or redistribute in any form.