HOW TO BECOME A NINJA- The VIDEO
Ashida Kim's Training Camp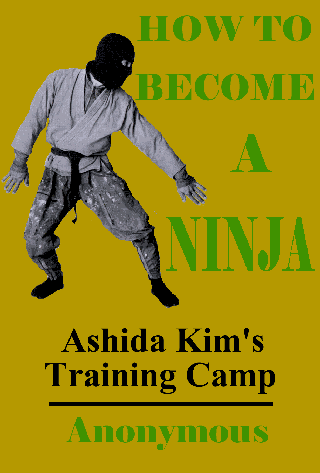 Being the video diary of an exceptional student selected for individual instruction by Master Ashida Kim at his remote training facility. Enter the shadowy world of espionage as taught since ancient times to the mystic-warriors of the night- the NINJA. Here you will learn the Nine Steps of the Ninja, single and double Escrima drills, Fast Drawing the Sword, infiltration and construction of secret hideaways used in enemy territory, Leaping Kung, and much more! Here is a dramatic demonstration of the Ninja art, as well as in depth instruction for the serious student of the Silent Way, Ninjitsu.
1 hour; Color; DVD Format; $29.95
| | |
| --- | --- |
| | <!width="100" height="30"> |
To order by mail click here Ashida Kim's Training Camp
When ordering by mail: Indicate book or item and mail with your
name, address, city, state and zip code to:
Dojo Press
PO Box 209
Lake Alfred FL 33850
Please include check or money order. Canada and Foreign
orders, please add $5 per order for shipping. US Funds Only.
DOJO HOMEPAGE AUDIOTAPES VIDEO TAPES FEATURED AUTHOR
VANISHING NINJA SUBMIT YOUR MANUSCRIPT INQUIRIES COMPANY PROFILE
For General or Advertising Information Contact: Dojo Press
Copyright © 1998 Dojo Press
All rights reserved. Do not duplicate or redistribute in any form. SM112476