NINJA HIDDEN DAGGER TECHNIQUE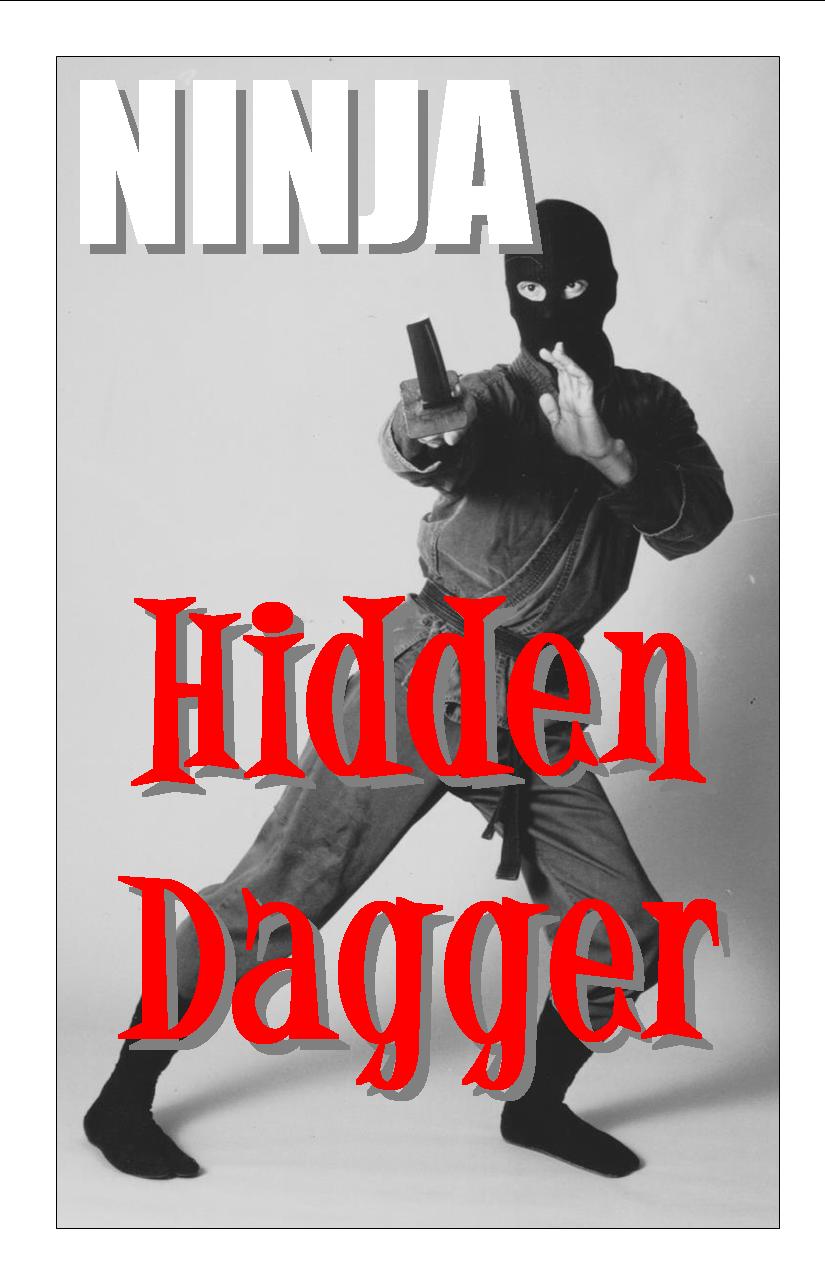 Ninja Hidden Dagger originally appeared as part of Ninja-Cloak and Dagger first published in 1986. It has been completely rewritten and reproduced from original photographs so that no claim of copyright infringement can be made by the former publisher who claims it went out of print in 1990. And, who have relinquished all rights on all books published by them to the Author, Ashida Kim.
The Ninja Dagger, Secret Sword, or Hidden Blade is only one weapon in the legendary Ninja arsenal, the Cloak of Invisibility is another.
Throughout the turbulent history of feudal Japan, no single breed of men spawned more sheer terror than the mysterious Ninja. They were invisible assassins, masterminds in the ways of espionage, ghost soldiers, warrrior mystics against whom no defense was possible. Revealed here are the secret methods used to hide their sword from an opponent, make it appear and slash him, then have it vanish again to look innocent. Against such deceit and trickery, no amount of fighting skill is sufficient.
Ninja Hidden Dagger is designed as a companion handbook to Ninja-Cloak of Invisibilty.

Retail $29.95 + $7 Priority Shipping
Pay With PayPal
| | |
| --- | --- |
| | <!"https://www.paypal.com/en_US/i/btn/view_cart_02.gif"> <!> |
To order by mail click here Ninja-Cloak and Dagger
When ordering by mail: Indicate book or item and mail with your
name, address, city, state and zip code to:
Dojo Press
PO Box 209
Lake Alfred FL 33850
Please include check or money order. Canada and Foreign
orders, please add $15 per order for First Class Postage. US Funds Only.
DOJO HOMEPAGE AUDIOTAPES VIDEO TAPES FEATURED AUTHOR
SUBMIT YOUR MANUSCRIPT INQUIRIES COMPANY PROFILE
For General or Advertising Information Contact: Dojo Press
Copyright © 1998 Dojo Press
All rights reserved. Do not duplicate or redistribute in any form.