The Lost and Forgotten Hardcore Martial Arts Philosophy of Count Juan Raphael Dante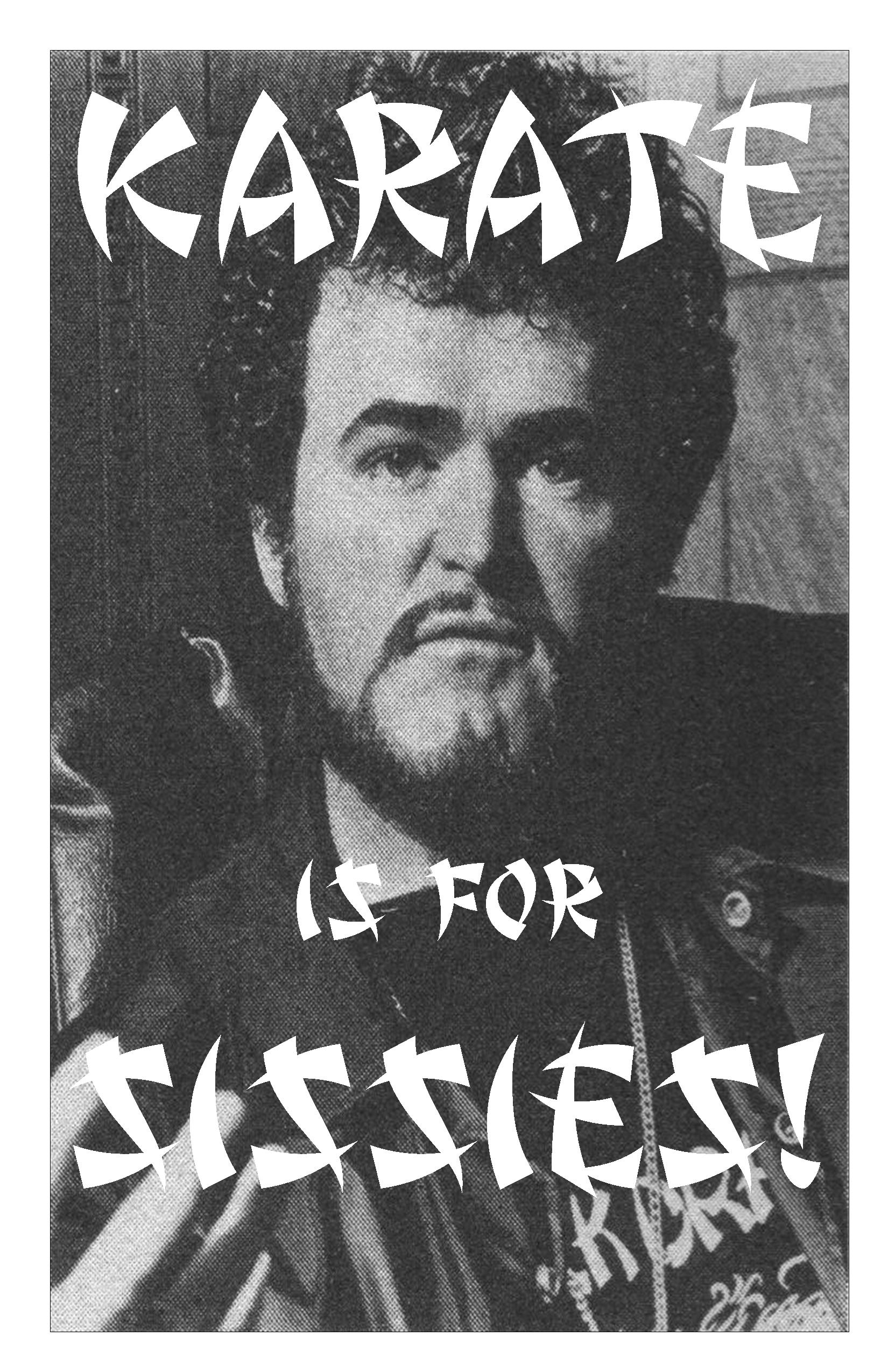 "Count Dante has been, and continues to be, one of the more controversial figures in ka­rate. He has been damned and praised with about equal intensity, and just the mention of his name will generally arouse an emotional outburst of one kind or another. An outspoken proponent of "full-contact" karate, he has aroused the ire of the purists, who would like to see him "drummed out of the corps". He is a thorn in the side of all those who cherish a legend, worship the past and detest criticism. We do not agree with all Count Dan­te has to say, but we do think he is a bright, articulate man who has exercised a profound influence on karate in the Mid-West and is, therefore, a man who should be heard. Perhaps some of his points are valid...perhaps not. It is up to you to make the decision. This article first appeared in MR. AMERICA magazine of December 1970. It is worth your attention."



Karate is for Sissies!



$15.95 + $7 s&h
6 x 9 inches; saddle-stitch pamphlet
Pay With PayPal
| | |
| --- | --- |
| | <! "https://www.paypal.com/en_US/i/btn/view_cart_02.gif"> |
To order by mail click here Karate is for Sissies!
When ordering by mail: Indicate book or item and mail with your
name, address, city, state and zip code to:
Dojo Press
PO Box 209
Lake Alfred FL 33850
Please include check or money order. Canada and Foreign
orders, please add $15 per order for First Class Postage. US Funds Only.
Classic Ninja Titles Stealth and Invisibility Dim Mak Instant Self-Defense
Invisible Fist Ninja Alchemy Black Dragon Page Ninja Magic Ninja Weapons
Grandmaster Lawrence Day Soke Michael Robinson Shihan Jeremy Schmidt
Dragon Lady DOJO Training Manuals Ultimate Fighting Grappling Skills Backyard Black Belt
Martial History American Homeguard Homeguard II Strategy and Tactics
Other Ninja Schools Anonymous Authors 21st Century Martial Arts Circus of Dr. Lao
Self-Help Unique Publications Humor and Novelty New Releases
Classic Ninja Video Grandmasters Video NINJA Training Video
Invincible Kung Fu Qi TV Series Nei Gong and Shen Self-Defense Basics
Healing and Massage Dowsing Series 21st Century Qi Gong Therapy
Good Health and Longevity DOJO Training Videos Unique Videos Black Belt Training Video
DOJO HOMEPAGE CDs DVDs
DOJO MEMBERSHIPS FEATURED AUTHOR INQUIRIES
SUBMIT YOUR MANUSCRIPT COMPANY PROFILE
For General or Advertising Information Contact: Dojo Press
Copyright © 2014 Dojo Press
All rights reserved. Do not duplicate or redistribute in any form.