Bride of Sucker Punch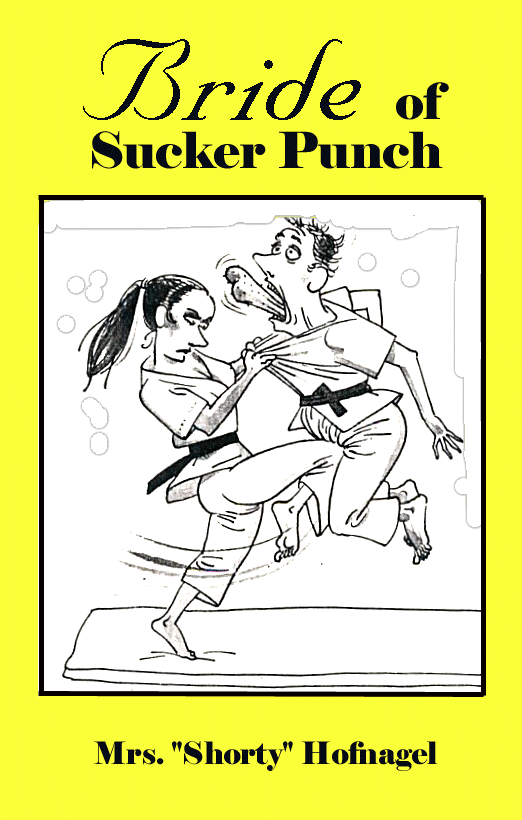 By Mrs. "Shorty" Hofnagel
Is the third in a series of Self Defense Handbooks by the notorious Hofnagel Family, "Shorty," Junior, and now Mama. Without doubt the most feared and respected fighting clan ever to flop down on a barstool. Their legendary exploits have inspired many a song, ballad, and ditty. Now they bring the secret of their fighting art to you, the unknowing consumer, who has yet to figure out that the key to winning a fight is to blast the other guy when he isn't looking. Now it can be told, Sucker Punching has arrived.
Retail $17.95 + $7 Priority Shipping
Pay With PayPal
| | |
| --- | --- |
| | <!"https://www.paypal.com/en_US/i/btn/view_cart_02.gif" > |
To order by mail click here Bride of Sucker Punch
When ordering by mail: Indicate book or item and mail with your
name, address, city, state and zip code to:
Dojo Press
PO Box 209
Lake Alfred FL 33850
Please include check or money order. Canada and Foreign
orders, please add $15 per order for First Class Postage. US Funds Only.
DOJO HOMEPAGE CDs DVDs FEATURED AUTHOR
SUBMIT YOUR MANUSCRIPT INQUIRIES COMPANY PROFILE
For General or Advertising Information Contact: Dojo Press
Copyright © 1998 Dojo Press
All rights reserved. Do not duplicate or redistribute in any form.