Qi TV 6: Brain and Memory Stimulation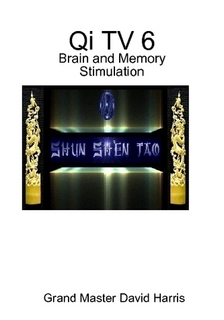 The Qi TV Series has no sound. Place the disc in your computer or DVD player and let the energy fill the room. The energy will fill the space of wherever it is allowed to flow, with the greatest amount of energy felt closest to the source. The DVD may be played on a loop to allow the energy to continue. Qi Gong energy on the DVD is emitted via various hand mudras/positions. The energy is composed of different vibrational wave lengths to produce harmonious effects with oneself and the environment. Qi TV 6: Stimulates the brain and enhances memory. May not use want to use just before desiring to rest/relax.

Grandmaster David Harris
<!width="100" height="30">
1 hour, Color, DVD Format; $19.95
| | |
| --- | --- |
| | <!width="100" height="30"> |
To order by mail click here Qi TV-6
When ordering by mail: Indicate book or item and mail with your
name, address, city, state and zip code to:
Dojo Press
PO Box 209
Lake Alfred FL 33850
Please include check or money order. Canada and Foreign
orders, please add $5 per order for shipping. US Funds Only.
DOJO HOMEPAGE AUDIOTAPES VIDEO TAPES FEATURED AUTHOR
VANISHING NINJA SUBMIT YOUR MANUSCRIPT INQUIRIES COMPANY PROFILE
For General or Advertising Information Contact: Dojo Press
Copyright © 2009 Dojo Press
All rights reserved. Do not duplicate or redistribute in any form. SM112476