| | | | | |
| --- | --- | --- | --- | --- |
| Randy Couture, Current NHB/Mixed Martial Art Champion and Berto in Japan, judging PRIDE Tournament March 2001 | | Berto with mentor and trainer Karl Gaotch, the inventor of Japanese ShootFighting, the only fighter who never lost a match. | Berto with Brazilian Muay Thai and MMA Champion Pele' and Gilbert Ivel, Best MMA from Holland, in Japan judging PRIDE Grand Prix, December 2000 | |
Dieuseul Berto is a pioneer of the professional martial arts, trained in Karate, Boxing, and Wrestling, he has competed and won in Ultimate Fighting Matches in Japan, South America, and the USA that are illegal in twelve states. "Most fights have one or two stand-up techniques and end up on the mat. In this system you are taught to apply arm, neck, and leg locks until the opponent surrenders or suffers a broken bone. Standing, sitting, on the mat, makes no difference."
Sensei Berto teaches at Tiger's World of Martial Arts, 302 6th St SE, Winter Haven FL 33880; (863)299-3661 and is contracted by Grandmaster Fujiwara, well known and respected promoter of professional martial artists, to host and train Japanese Shootfighters for televised matches overseas and has graciously agreed to offer his Thirty Day Training Program to other interested students willing to learn from the best in order to become the best.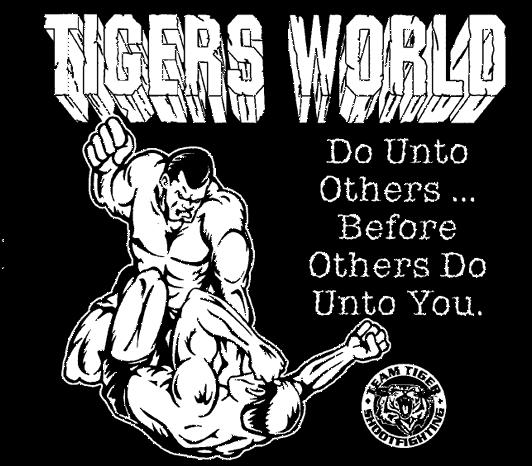 MAKE 'EM SAY UNCLE!!!
Submission Wrestling Holds, Locks, and Takedowns
Pressure Points of Dim Mak Dirty Tricks of Boxing

How to Find Them

Head Butting


How to Cause Pain

Shin Kicking


How to Paralyze

Elbow Strikes
Wrestling Holds Ju-Jitsu Mat work


Neck Breakers

Defensive Guard


Stomach Pressing

Mounted Position


Submission Holds

Escapes & Reversals
IF YOU WANT TO WIN
YOU CAN'T AFFORD NOT TO HAVE THESE BOOKS
Retail $12.95 each; Complete Five Book Set $55
To order by mail click here Ultimate Fighting Techniques
Complete Set of Five Books
Pay With PayPal
| | |
| --- | --- |
| | <! "https://www.paypal.com/en_US/i/btn/view_cart_02.gif"> |
Classic Ninja Titles Stealth and Invisibility Dim Mak Instant Self-Defense Invisible Fist
Ninja Alchemy Ninja Magic Ninja Weapons Dragon Lady of the Ninja Other Ninja Schools
Black Dragon Page Grandmaster Lawrence Day Soke Michael Robinson Shihan Jeremy Schmidt Master of Komuso Ryu
DOJO Training Manuals Ultimate Fighting Grappling Skills Backyard Black Belt Legend of the Guru
Martial History American Homeguard Homeguard II Strategy and Tactics 21st Century Martial Arts New Releases
Self-Help Unique Publications Anonymous Authors Humor and Novelty Circus of Dr. Lao
Classic Ninja Video Grandmasters Video NINJA Training Video
DOJO Training Videos Black Belt Training Video Good Health and Longevity Unique Videos
Invincible Kung Fu Qi TV Series Nei Gong and Shen Self-Defense Basics
Healing and Massage Dowsing Series 21st Century Qi Gong Therapy
DOJO HOMEPAGE AUDIO CDs VIDEO DVDs
DOJO MEMBERSHIPS FEATURED AUTHOR INQUIRIES
SUBMIT YOUR MANUSCRIPT COMPANY PROFILE
For General or Advertising Information Contact: Dojo Press
Copyright (c) 1998 Dojo Press
All rights reserved. Do not duplicate or redistribute in any form. SM112476