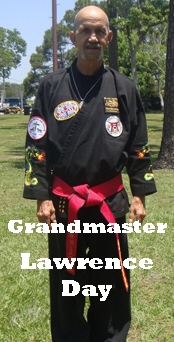 Grandmaster Lawrence Day
My Martial Arts Philosophy
"I'm a Black Dragon, always have been, always will be..."
USMA Hall of Fame member Grandmaster Dr. Lawrence Day began his Martial Arts journey with the Black Dragon Fighting Society under Count Dante (whose real name was Grandmaster John Keehan) in Chicago. Dr. Day is one of the original Black Dragons that studied under Grandmaster Count Dante and Grandmaster Doug Dwyer and has been a Black Dragon Fighting Society member from the mid 60's to present day. He has also studied with Grandmaster Tanaka.
"Most all teaching was done by Grandmaster Doug Dwyer, John's best friend in the late or mid 60's. In 1969 when John Keehan broke away from Dwyer and officially formed the Black Dragon Fighting Society, he chose as his symbol a running dragon looking back on itself to honor his "Bloodsport" Kumite fighting roots and his Black Dragon instructors, (e.g. Ka-Ju-Ken-Bo Master, Dr. Robert Rapue and Senzo Tanaka). Tanaka was going by a different name when not in the company of Japanese businessman and Japanese Black Dragon Society member, Major Takahashi, who had a black wife. Keehan's relationship with them and his black students inspired him to not give the martial arts world of that day any respect for the way it divided people because of their skin color, like preventing Victor Moore from competing for a title."
"When the opportunity presented itself Moore, an original (BDFS) bested the likes of Bruce Lee, Joe Lewis, Bill Wallace, Chuck Norris, Mike Stone and alike. If not for original Black Dragons taking over a 'whites only' hotel and outnumbered 20 to 1 and risking going to jail, Vic never would have his chance to fight and become the first Black World Karate Champion. In the same spirit as "capture the flag" the BDFS promoted the Chinese Triad Green Dragon Schools dragon symbol as our own, that resulted in a dojo war and the death of my Sensei, Jim Konsevic." Grandmaster Day
In the 70's and mid 80's Dr. Day studied with Grandmaster Sin The, Grandmaster Robert Trias and Grandmaster Don Madden, He also studied Tai-chi and Chi-kung from Yuzee Yeh. Dr. Day was honored by being named a 37th generation Warrior Monk under Grandmaster Young Di of the Shaolin Temple. Dr. Day continued teaching and learning Tai-chi, Chi-kung and his passion, Chi-ma, or Fa-ching Poison Hand, for over 45 years. In 2012, the Year of the Black Dragon, he closed his hands and went to the mountain. We will miss his warm smile and two good hands. We shall not see his like again. But, will do our best to carry on the tradition and teachings of martial arts excellence he shared with us.
Select an image below to order or view more information.