BAYONET and KNIFE Drills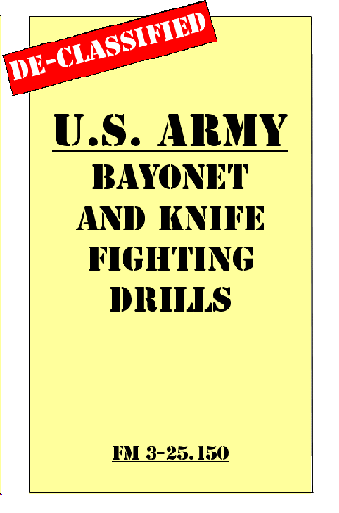 DE-CLASSIFIED
This manual is basic training for all American HomeGuard units. It teaches bayonet-on-rifle drills that can be easily adapted to the medieval pike or spear; as well as Hand-to-Hand combat with the bayonet as the long knife/short sword it truly is. These techniques can be used withor without the HomeGuard Shield and are intended for use by hastily raised civilian militia forced to defend their homes just as the British Home Guard did more than sixty years ago against a similar threat. These military methods have been tried and proven on the world's battlefields and can be taught to large or small unarmed groups in a short period of time. Either as a readiness exercises or deal with a very real and impending threat. 96 pages; illustrated; bw-pen&ink

Retail $19.95 + $7 Priority Shipping
Pay With PayPal
| | |
| --- | --- |
| | <!"https://www.paypal.com/en_US/i/btn/view_cart_02.gif"> |
AMERICAN HOMEGUARD TRAINING MANUALS

911-3 American Home Guard Training Manual

911-7 Killer Commando Techniques

911-8 U.S. Army Bayonet and Knife Fighting

911-10 Homeland Shield, Sword, and Spear




To order by mail click here BAYONET
When ordering by mail: Indicate book or item and mail with your
name, address, city, state and zip code to:

Dojo Press
PO Box 209
Lake Alfred FL 33850

Please include check or money order. Canada and Foreign
orders, please add $15 per order for First Class Postage. US Funds Only.

DOJO HOMEPAGE CDs DVDs FEATURED AUTHOR
SUBMIT YOUR MANUSCRIPT INQUIRIES COMPANY PROFILE

For General or Advertising Information Contact: Dojo Press




Copyright © 2001 Dojo Press
All rights reserved. Do not duplicate or redistribute in any form.